Our Catholic Mission Statement
Each half term, we focus upon different Catholic values and virtues, demonstrated by Jesus Christ in his own life.
Our Catholic Values and Virtues are:
Grateful and Generous

Attentive and Discerning

Loving and Compassionate

Faith-filled and Hopeful

Eloquent and Truthful

Learned and Wise

Curious and Active

Intentional And Prophetic
Each week, every class teacher chooses a child who has actively demonstrated these virtues in school. We celebrate these virtues in our Monday Gospel assembly, where the chosen child from each class receives a certificate and badge and a comment from the class teacher about the reason for their choice. This half term, our Catholic Virtues are focused upon children who are 'Attentive' and 'Discerning'. We are therefore looking out especially for children who listen carefully to others and choose to make the right choices.
Click below to read our most recent 'OUTSTANDING' inspection: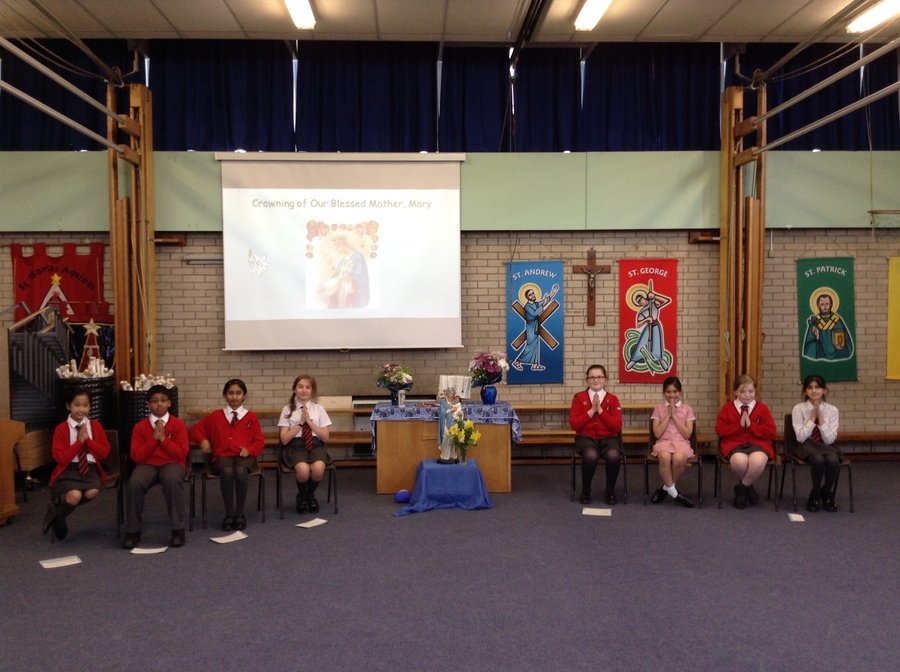 On Tuesday, 1st May, we commemorated the life of our Mother Mary by honouring her as the Queen of Heaven. Our Year 6 children led us in a liturgy and our Head Girl and Head Boy, Lily and Joshua, crowned our statue of her with a crown of flowers. We sang her praises and prayed to her in a wonderful whole-school liturgy.
Our Lenten Appeal: Fr. Hudson's Care
On Tuesday, 27th February we had an assembly delivered by Megan from Fr. Hudson's Care. She came to tell us about the wonderful work that Fr. Hudson's Charity does for the homeless, the elderly and the vulnerable of our Diocese. We learnt all about the Young at Heart programme and the charity's newest initiative, Tabor House, which caters for the honeless people of Birmingham. As part of our charity fundraising and alms-giving this Lent, we are raising money to support this charity. All donations will be presented in our annual Good Shepherd Mass during the Summer term.
CAFOD Harvest Fast Day
On Friday, 6th October, Joe Andrew from CAFOD came to talk to us about the charitable work of CAFOD (Catholic Agency for Overseas Development). We learnt about this year's fundraising project- to raise money for training and seeds for farmers in El Salvador, to help them to become more self-sufficient. We had a non-uniform day, where children came in their own bright clothes and donated money to charity in the process. As a result of this, we have raised over £240 for CAFOD, to brighten up the harvest for those less fortunate than ourselves.
Support for our local Food Bank
We are also keen to support families in our local area who are in need of food donations and are working with our local Food Bank in Stoke-on-Trent to offer our help and donations of non-perishable food goods. We recently had a collection where all children brought in a tin or packet of dry food/ drink, such as tea or coffee, which we took up to the Food Bank the following week. Our local Food Bank were extremely grateful for our donations, and hopefully, our generosity will help to make a difference to some children who are less fortunate than ourselves, even though we live in the same locality.