Welcome to Year 4 2020-2021. Let's make this year rock!
English
Our first unit in Year 4 was poetry! We researched lots of different features that poets used and became experts at personification! We wrote our own poems about the start of a school day, keeping in mind that we would be performing these poems to Year 3. We loved writing our poems and Year 3 loved hearing them.
For the next 4 weeks in English, we completed pieces of writing based around the story 'The Egyptian Cinderella'. We worked through many Key Writing Skills and wrote some wonderful diary entries, letters and narratives. Have a look!
Maths
Year 4 have continued amazing me in Maths. I remember back to Year 2 when we all passed the SATs test! If Year 4 keep working as hard as they are, the sky isn't even a limit for them in Maths!
Here are some of the pieces of work we have completed in our Place Value and Addition and Subtraction units.
Art
One of the revelations of the year so far has been our (including Mr Washington's) improvement in drawing skills. We completed a baseline drawing of different facial features before completing some tutorials on drawing these with added detail and shading. After drawing our realistic Egyptian Death Masks, we went all abstract and cubist by celebrating Pablo Picasso and using our new and improved facial drawing skills to create cubism masterpieces.
PE
In PE this half term, Y4 have mastered their Ultimate Frisbee techniques. By the end of the unit we were able to have an efficiency competition which was won by... St. David's team.
RE
Many of our class took their next big step in their journey of faith this half term by taking their first holy communion. Congratulations to you we are so proud of the work you put in to it.
In class, we looked at the Creation story and how we are made in the image and likeness of God. We then learnt about Abraham, Isaac, Jacob and Joseph.
To conclude our second unit, learning about the
Rosary, we held a Collective Worship. All children
were reverent and prophetic, making beautiful
reflections after the worship.
Topic
Our topic, Enchanting Egyptians, has been fast-paced, fascinating and fun! We have identified the Ancient Civilisations in time and place, researched different Pharaohs, understood why the River Nile was important and the features of the river system, acted out and explained the water cycle, and researched different elements of Egyptian daily life.
TTRS
How could we not start this half terms website with the TTRS competition. What an achievement! Year 4 blew everybody out of the water and only went and won the Stoke-on-Trent competition. I am so incredibly proud of them all and I hope you are too. We have had our photo taken for the Sentinel and once we have a copy we will upload it here and let you all know.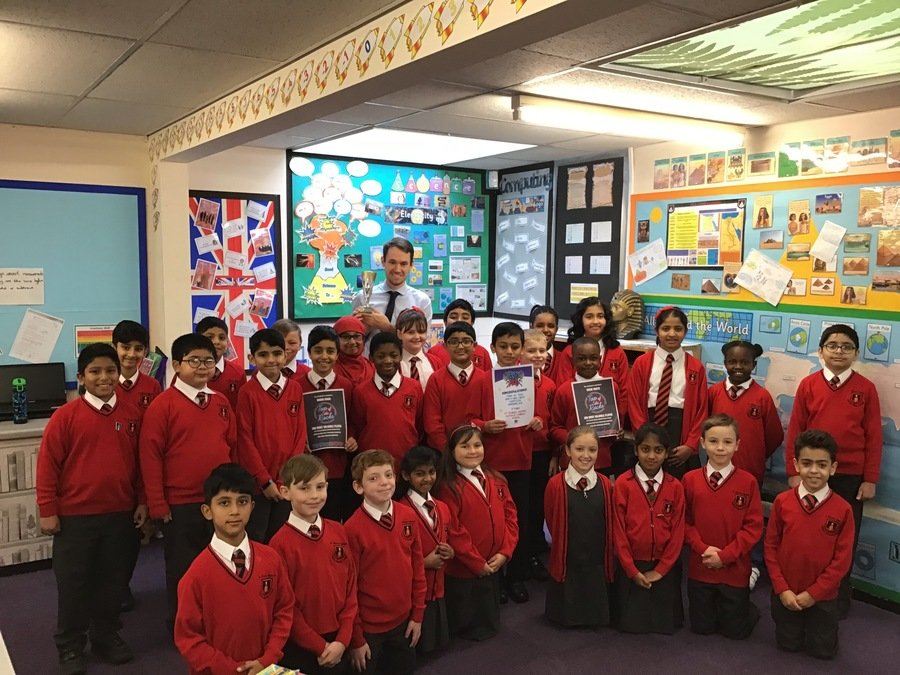 Computing
This term we have created algorithms which produced repeating pattern designs. We used a programme called 'Microsoft Logo' and used lots of coding terms. It was a a challenge but one that we aimed high and achieved.
DT
Linking to our Egyptian topic, we have sewn headresses. Mr Washington was amazed with our stitching skills and we loved creating and wearing our masterpieces.
PE
This half term we have taken part in another inter-school competition by completing 5 'cross-country' length runs. We were timed in each race and aimed to beat our own score. No-one, not even Mr W, could get close to Chebe's time! The quickest three times were entered into the town event. We will update the result when it is finalised.