Welcome to Year 1's Class Page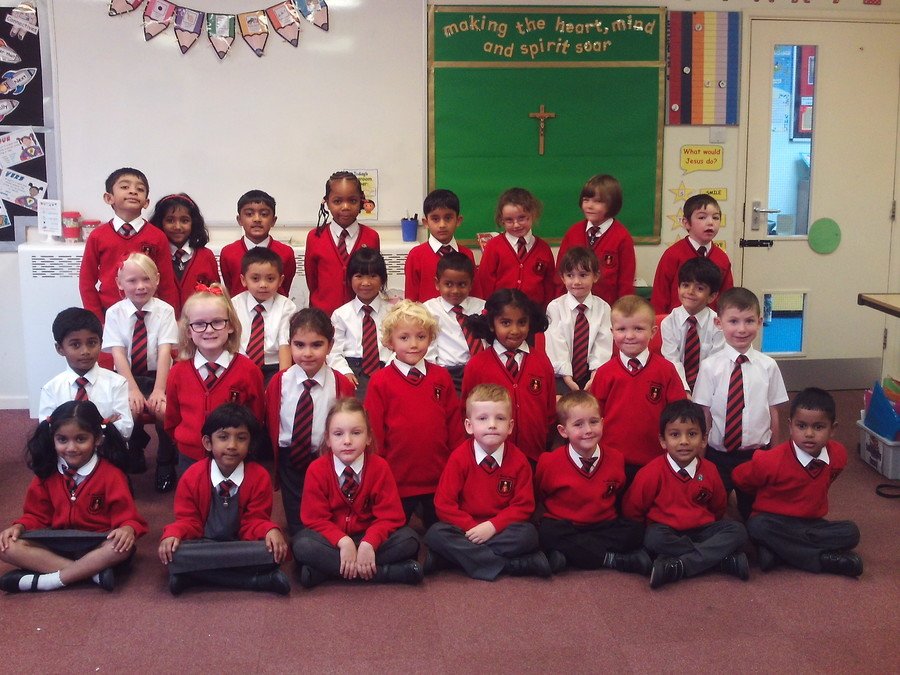 KS1 Advent Liturgy
On 5th December KS1 celebrated the start of Advent with a beautiful liturgy together. We sung one of our favourite hymns 'Awake Awake', read the Gospel about John the Baptist preparing for the coming of the Lord and we discussed how we can prepare and be ready for Jesus' coming. We wrote a promise on a footprint and made a path for the Lord to come. We were amazed because at the end of the liturgy, the path actually looked like a footprint. Can you spot this shape too?
Remembrance
In November, we remember! To mark the centenary of the end of World War I, we have written a non-fiction text about animals involved in the war and made special medals to commemorate their service. We made poppies using recycled water bottles and each said a special prayer for a Staffordshire soldier. We planned and delivered a whole class collective worship session and wrote our own prayers to remember the brave soldiers that fought for our freedom. We will remember them!
Our Wonderful World Assembly
We wrote Autumn poems, painted Autumn pictures, wrote prayers thanking God for his Creation, performed songs and learnt Makaton to 'It's a Wonderful World'. We performed amazingly in our first assembly and many staff commented on how wonderful our assembly was. Mrs Hellawell was very proud of each and everyone of us! We are born performers!
Autumn - Seasonal Change
In Science, we observed the changes that take place during Autumn. We went on an Autumn walk and used our senses to write Autumn poems. We collected Autumn items and made our own Leaf Man. In English, we created stories using our Leaf Man and ended our afternoon by enjoying a delicious hot chocolate!
Snow White
Year 1 started the year off by looking at the fairy tale of Snow White. We wrote character descriptions, retold the story and made toffee apples. We linked our Science learning to the story and used our senses to detect the ingredients for the Queen's potion and went on a listening walk around the school pretending to be the wicked Queen.