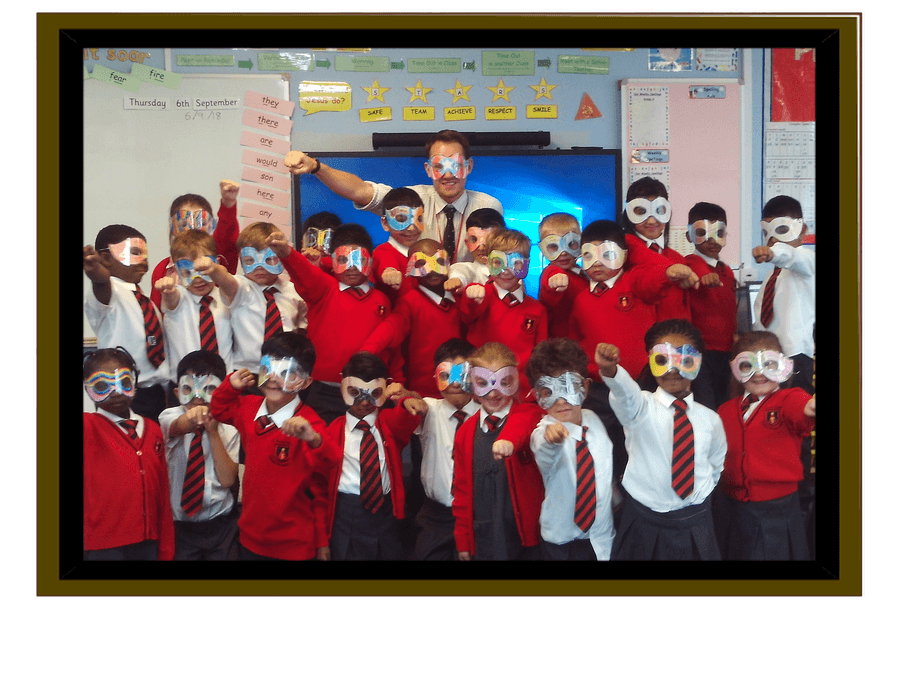 In Year 2 we have taken on the role of being a SPAG Superhero!
Each week we will put on our superhero masks and become experts at identifying word types, sentence families, correcting spelling errors and many other SPAG activities. One person will be chosen to be our SPAG superhero of the week and they will be put on display in the classroom and on our Year 2 website. We will also show their work so that everyone can stop SPAG from scaring children!
Previous SPAG Superheroes...
Shuja, Anson, Yori, Cheeku, Arthur, Chebe, Nusyba, Gerard, Mahir, Evana, Ben & Suleman.
Keep up the brilliant work!
Autumn
Samson's Titanic Journey
In English we have started reading Samson's Titanic Journey. It is a story about a daring, adventurous mouse who takes a trip on the Titanic so that he can start a new life in America. Unfortunately Samson finds that his journey isn't quite plain sailing.
To add some description to our stories we have recreated one of the scenes from the story and written about what we can see, touch, hear and how we would feel.
Science
In our Science lessons we have been doing lots of work learning about materials, their properties and what jobs they are suitable for. In one of our investigation lessons we were trying to find out if we could change the shape of different materials by twisting, stretching, squashing and bending them.
Topic/Art
Our topic this term has been all about famous people from the Potteries. With the wonderful (should be famous) Mrs McNicholas we have learnt about Josiah Wedgwood and have created our own Jasperware pots! We are currently in the process of painting them but were so excited with our work so far we wanted them to be shared! Do you think any of us could be the next Wedgwood, Spode or Cliff?
WEDGWOOD CLASS TRIP!
What a fantastic day! After learning about Josiah Wedgwood's life and harnessing our own skills in class we amazed the staff at the World of Wedgwood Museum with our knowledge and talents. We all loved our trail around the museum seeing Wedgwood's Cauliflower Teapot, Hedgehog Planter and Portland Vase among many other stunning pieces. We were then lucky enough to have a guided tour of the Factory when we saw the kilns which heat up to 1,250 degrees! That's hotter than lava! Also we saw the clay being shaped into bowls, handles and cups. Finally we all designed our own plates; our fabulous assistants turned our designs into slips which were lithographed onto a Wedgwood plate.
Remembrance Day Liturgy
Year 2 had their first collective worship of the year as we commemorated Remembrance Day. The children chose which Bible passages to read, how to remember the local soldiers who died for us and the poems we would hear. It was a lovely, reverent liturgy and the children were all very respectful.
KS1 Advent Liturgy
On 5th December KS1 celebrated the start of Advent with a beautiful liturgy together. We sung one of our favourite hymns 'Awake Awake', read the Gospel about John the Baptist preparing for the coming of the Lord and we discussed how we can prepare and be ready for Jesus' coming. We wrote a promise on a footprint and made a path for the Lord to come. We were amazed because at the end of the liturgy, the path actually looked like a footprint. Can you spot this shape too?