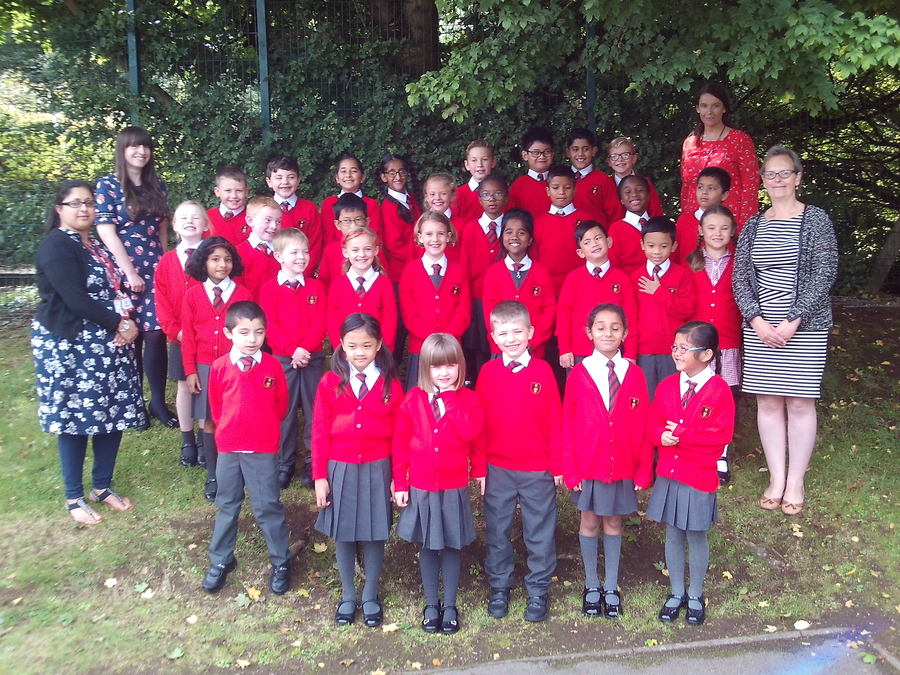 Royal Wedding Celebrations!
To celebrate the royal wedding we made our very own Union flags and American flags. We had to use our maths skills to draw them accurately and our art skills to colour them in neatly.
"We are poets and we didn't know it!" We have been looking at and reciting different types of poetry such as Tongue Twisters, Riddles, Kennings and Nonsense poems.
We have had some really good fun with word play and in pairs we performed some poetry, which we all really enjoyed.
March 2018
This week has been a very special week as we prepare ourselves for the week leading up to the Death and Resurrection of Christ.
Years 3 and 4 re-enacted the story of Jesus and his Disciples in the Garden of Gethsemane. They shared some beautiful reflections and prayers with reverence and respect.
We enjoyed working with our parents in the 'I can Animate Workshop'. We learnt how to do stop motion. This will help us in our next Computing topic. A big thank you to Mrs Jackson for organising the workshop for us.
In Science, we have been learning all about rocks and soils. In today's lesson we had to set up our own fair test to test the permeability of different soils. The soils we had to test were clay soil, peat soil, sandy soil and calcareous soil. We also had to use our maths skills to measure the water very careful. We had a lot of fun being super scientists!
On the 14th March, we visited The World Museum in Liverpool to see the famous Terracotta Army. When we arrived, we explored the Terracotta Warriors and we learnt all about China's first Emperor and his Terracotta Army during a very exciting activity. Our mission, in the activity, was to save all of the children, who had left on the boats, and fight the Terracotta Warriors. We had to work as a team and we succeeded. Afterwards, we also got the chance to explore the rest of the museum. We went to the Aquarium, the Bug House, the Ancient Egyptians, the dinosaurs and fossils, and we also got the chance to pick up a piece of meteorite! We had a very exciting and fun-filled day.
During Science week we took part in an investigation called 'Confusing Cans'.
Year 3 have written a summary of today's experiment:
Today, Year 3 have been trying to find out what was inside some mystery tins with missing labels. To help us, we had some cans that were 'controls', which means we had some tins with the labels still on. We used these to compare with the mystery tins and this helped us to find out what was inside. Most of us succeeded in finding the beans without opening the cans!
"This was tricky, but interesting"
For World Book Day, we had to dress up as a Shakespeare character. Our class had a variety of some of Shakespeare's most famous characters, including Romeo and Juliet; Helena from A Midsummer Night's Dream; witches from Macbeth; Julius Caesar; Cleopatra; princes; knights; kings; pirates and even William Shakespeare himself. We also learnt about who William Shakespeare was and next week we will learning all about one of his plays - A Midsummer Night's Dream.
Congratulations to all the Year 3 children who received the Sacrament of Reconciliation for the first time on Monday 5th March 2018.
The children were reverent and respectful throughout. We would like to thank all parents/guardians for supporting and encouraging their children to make a good confession.
"The most precious result of the forgiveness obtained in the Sacrament of Penance is to be found in the reconciliation with God which takes place in the innermost heart of a son who was lost and is found again."
Saint John Paul II
In Design and Technology, we have built, sculpted and painted our own 3D volcanoes. We had to sculpt them into a realistic volcanic shape and decorate them carefully. When we had finished making our volcanoes, we used vinegar and bicarbonate of soda to make our own volcanic eruption!
January 2018
In P.E. we have been learning lots of techniques to develop our badminton skills. We really enjoyed participating in this sport, which was a first for most of us. Thank you Mr. Hancock.
During the end of term assembly, we played the ukulele in front of KS1 and KS2. We had a lot of fun performing in front of everybody and we all tried our best to remember the different notes and chords.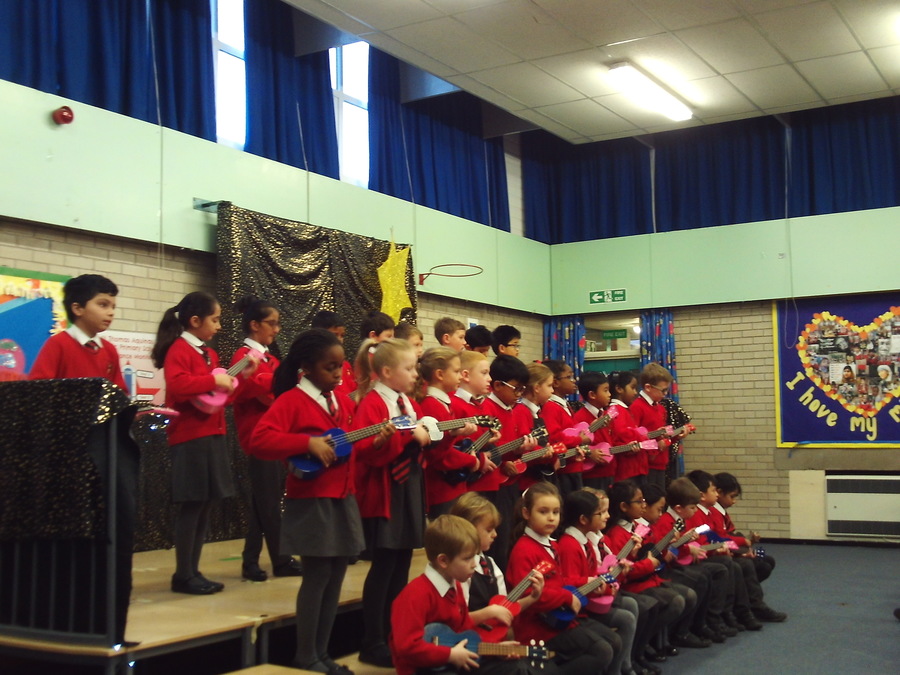 In Design and Technology, we made our own 3D pop-up Christmas cards. We used our drawing skills to design and make the card. We also used lots of different materials to make our Nativity themed Christmas cards.
November 2017
Today we had a visit from Deacon Tony who helped us learn lots more about the Mass. We discussed the different parts of the Mass and why each of them are important. We read out some of the prayers and responses and found out why we do certain actions at certain times during Mass. Deacon Tony showed us all the different vestments he wears and discussed how to put them on. We role played different parts of the Mass and this helped us understand what happens in each part.
Thank you very much Deacon Tony, we really enjoyed your visit.
Today we carried out our class assembly on the theme of Anti bullying. This week we have understood what bullying is and how to deal with difficult situations that we or people around us may experience.
If you ever find yourself or someone around you being in this situation, remember to:
* Stand up for yourself. * Tell a teacher. * Have confidence. * Make eye contact. * Tell them to stop. * Say goodbye to bullying. * Be a buddy not a bully
Have a look at the pictures of our assembly below and remember, you never have to suffer in silence.
On the 15th of November we stepped back in time to experience the Stone Age first hand, where we learnt the skills and crafts of our ancestors. During our morning we looked at different materials and tools from that era and some of us had the opportunity to taste edible bugs and beef jerky that would have been eaten by humans then (some of us loved these, whilst others weren't too keen to say the least!). Later in the day, we built Mesolithic shelters using natural materials creating a natural shelter much like that of our Mesolithic hunter gatherer ancestors. We also learnt some simple tracking methods and tried our hand at some target practice with arrows that we made. We had the most fabulous day and impressed everyone with our knowledge of the Stone Age.
What we said about our Stone Age experience:
"Fabulous", "Amazing", "A fantastic time", "Epic" "The best trip ever".
October 2017
Today we had a visit from one of our community police officers about her role in the police. She talked to us about the importance of staying safe, stranger danger and internet safety.
This visit really helped us understand what the police do and how they can help us. We learnt what we should do, how we can protect ourselves in our local community and how important it is to stay safe online.
September 2017
In RE, we have learning about the importance of belonging. We discussed all the different groups that we belong to, in particular belonging to the family of God. We investigated the seven sacraments and looked at the signs and symbols associated to them. We specifically looked at the sacrament of Baptism and through role play we learnt about the Rite of Baptism and why this sacrament is so important to Christians.
During the first few weeks of Year 3 we have been reading and exploring the traditional tale of Jack and the Beanstalk. We wrote character and setting descriptions, acted out parts of the story and created freeze frames. We then designed our own story maps following the structure of the Jack and the Beanstalk story but we had to include a 'twist'- an alternative setting /character/ or alternative ending. After lots of writing, editing, improving and more writing we produced some 'terrific traditional tales' of our very own. Our teachers were super impressed!