Welcome to Year 6's Class Page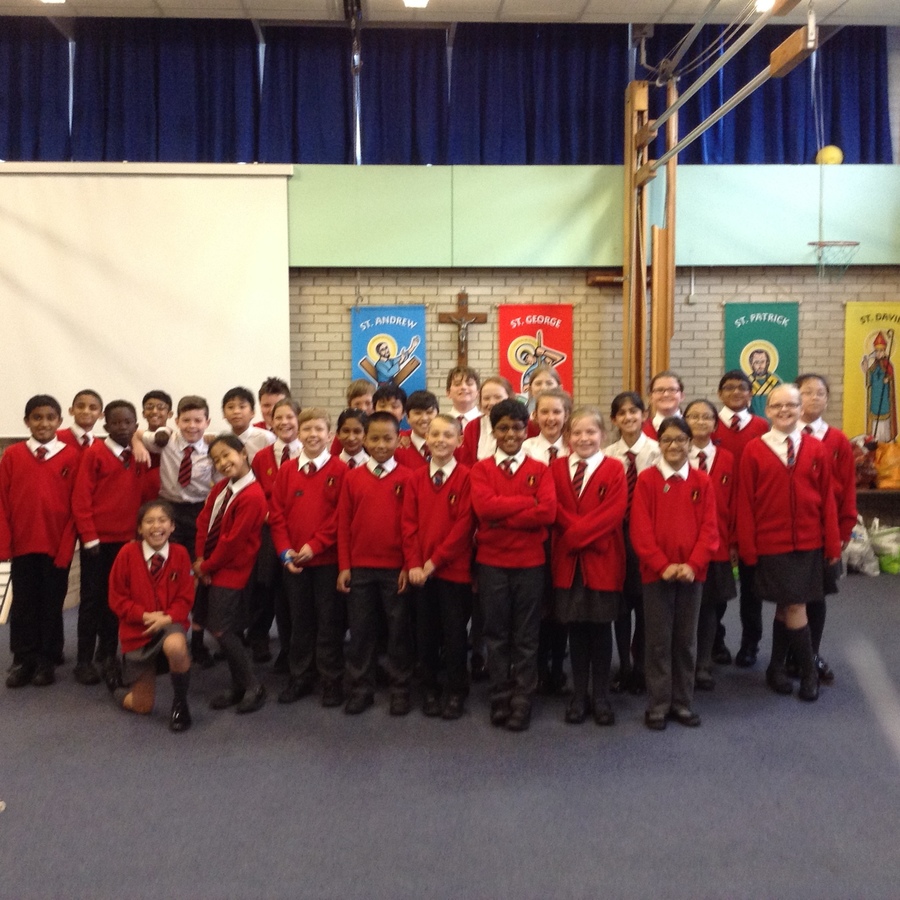 Year 6 Responsibilities:
Head Girl: Lily
Head Boy: Joshua
Deputy Head Girl: Daisy-May
Deputy Head Boy: Dylan
Prefects: Harper (Principal), Alexis , Mischa, Nafay, Noel, William, Hajrah and Trinity
PALS (Prayer and Liturgy Support Team): Emma (Principal), Jewel, Olivia and Siona.
St George's House Captain: Aadarsh / Vice Captain: Rebecca
St Andrew's House Captain: Matthew/ Vice Captain: Hayden
St. Patrick's House Captain: Saad/ Vice Captain: Connor
St. David's House Captain: Luke / Vice Captain: Aayan
School Council Representatives: Rebecca and Noel (plus Head Boy/ Girl/ Deputies and Principal Prefect)
Science Ambassadors (as voted for by the class): Harper and Dylan
Eco Council (as voted for by the class): Emma and Noel
From Monday 11th- Thursday 14th June, most of us in Year 6 visited Plas Nantglyn in Denbighshire for our first school residential. We all had an amazing time in the heart of the Welsh countryside: discovering wildlife, playing team games, visiting the Great Orme Copper Mines, eating ice-cream on Llandudno beach, toasting marshmallows around the campfire, etc. Here are just a few of the hundreds of photos that the teachers took of us on our week away...
Celebrating the Sacrament of Confirmation
On Sunday, 10th June, 18 of our Year 6 children were confirmed by Bishop David McGough in our parish church. It was a most wonderful celebration; the children read beautifully and demonstrated the fruits and gifts of the Holy Spirit in their wonderful conduct and reverence. Thank you to everybody who came and made this such a special occasion.
During week commencing 4th June, we were visited by many adults who wanted to come and share their occupation, mission and vocation with us. We have been blessed to have had many people who have wanted to share the path that God has chosen for them in their life. We have had talks and activities from people who work as: GPs, nurses, occupational therapists, teachers, catechists, volunteers, charity workers, solicitors, barristers, and a very moving talk from a parent who works with those who have learning difficulties in adulthood. We have had a thoroughly enjoyable week with some very special people who we would like to thank for their time and sharing their experiences with us. It has really made us think about what we might be chosen to do when we grow up.
On 1st May, Year 6 led a whole-school assembly on the Crowing of our Blessed Lady, Mary. We reflected on the life of our Holy Mother and her response to God's call. We prayed a litany and the Hail Holy Queen, sung her praises and rejoiced as we crowned her with a garland of flowers, to remind us all that she is Queen of Heaven and Queen of our hearts.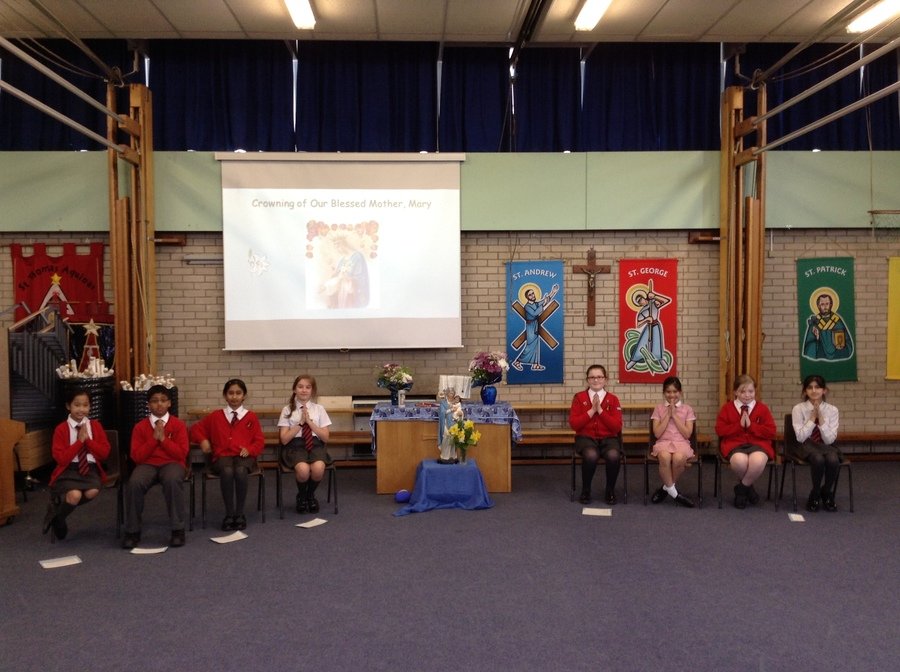 In Art this term, we have been designing and making our own Viking long boats. Check out our battleships below:
On World Book Day, we had a whole school focus on Shakespeare. We researched Shakespearean characters and came dressed up in our favourite characters from the great Bard's play-scripts. We also tested our knowledge by participating in a World Book Day quiz, and shared our reading skills with our friends in Year 1. We will continue learning about Shakespeare this term by studying the first great tragedy, Macbeth, in our English lessons.
This month, we shared our class assembly with our family and friends in school. The focus of our assembly was on the Season of Lent, and how important it is for us to reflect upon Jesus' teachings of prayer, fasting and alms-giving, particularly at this time of year. We lead our school in some thoughtful reflection, prayer and meditation through our journey of Lent. Thank you for our families for coming to share this special Collective Worship with us.
At the end of February, we went to Liverpool's World Museum to visit the Terracotta Warriors, on loan to our country from China. It showcased objects from one of the world's greatest archaeological finds. We discovered many things about the Chinese Empire, and particularly about the beliefs of the first emperor, whose tomb was secretly guarded by an underground army of life-sized terracotta warriors until the chance discovery of the 10,000 Terracotta Warriors in 1974. It was an unmissable experience for us all!
Our Topic this term is 'Healthy Bodies'. We have been learning about the circulatory system and how the heart, lungs and blood work together to transport nutrients and oxygen around our bodies. We looked at the journey of a red blood cell, re-enacting the journey through the heart, lungs and body.
Young Voices- Manchester Arena
After months of rehearsals, singing in the car, shower, etc. St Thomas Aquinas Young Voices finally performed at the Manchester Arena- and what an amazing day we had! We were all in fine voice, showing off our dance moves and having the time of our lives! Check out some of the photos below!
In our Science topic 'Evolution and Inheritance', we have looked at the work of Charles Darwin and his theories of adaptation and evolution. We have particularly focused on Darwin's Finches and his famous discovery on the Galapagos Islands. In groups, we had fun conducting an experiment to investigate how the shape of a bird's beak may have evolved to suit its habitat and the food sources available there. Using a variety of bird foods (worms, seeds and fruit), we trialed different items to simulate birds beaks, to see which beak shape was best suited to each type of food.
In Art, we have been studying the work of Brazilian artist Romero Britto, a contemporary artist inspired by Cubism and Pop Art. We have adapted and interpreted Britto's artistic style, looking at the artist's use of pattern and colour, and using these as a backdrop to our self-portraits with a Disney twist. Have a look at our fantastic creations- can you guess who's who?! We also researched the life and inspiration of Romero Britto, creating artist profiles of him.
This month, we have been focusing on raising money for good causes. We have donated non-perishable goods to our local Food Bank and have been brightening up this harvest with an assembly and fund-raising for CAFOD. We have also brightened up our prayer garden by decorating stones to show our faith.
Friday, 29th September was our first class assembly in Year 6. We told the school and our parents the story of St. Francis of Assisi, the great patron saint of the environment, nature and animals. As part of our liturgy, we reflected on St. Francis' great Canticle of Creation and sung the beautiful hymns inspired and written by this man of God: 'Brother Sun, Sister Moon' and 'Make me a Channel of Your Peace'.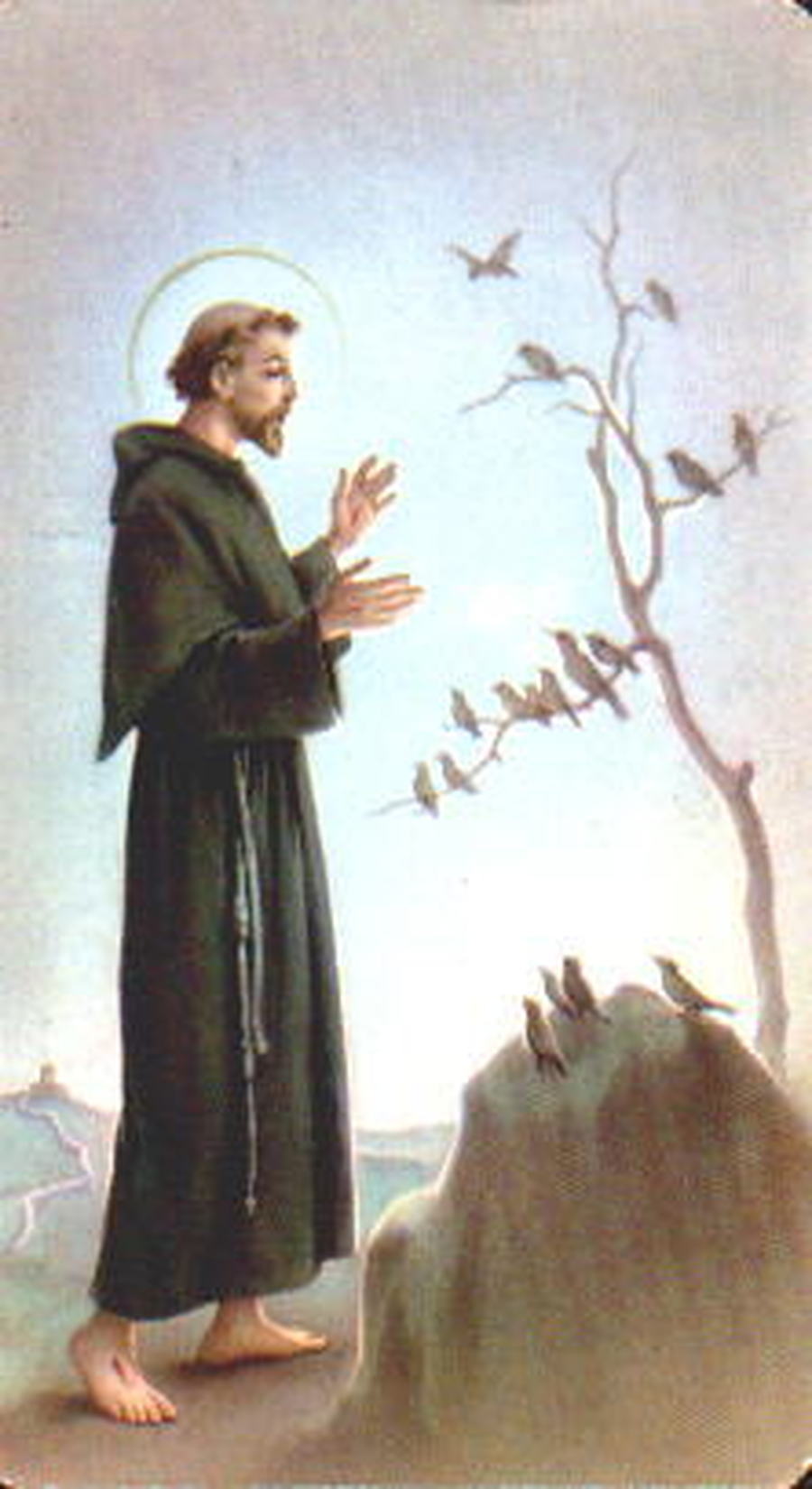 On Monday 18th September, we had a visit from a Science teacher, Miss Brabbs, and some of the Year 7 pupils from St John Fisher Catholic College. We learnt about the distance between the different planets in the solar system, made our own rockets and then tried launching them into space with the help of a pneumatic air pressure system. Some of them flew a little higher than others, but we all had great fun!