Welcome to Year 5's Class Page!
Year 5 Curriculum Information
Spring Term
(Miss Kontic)
RE/ART
We used pivots, leavers and pulleys to create our Easter Cards this year.
We wish you a happy, Holy and peaceful Easter!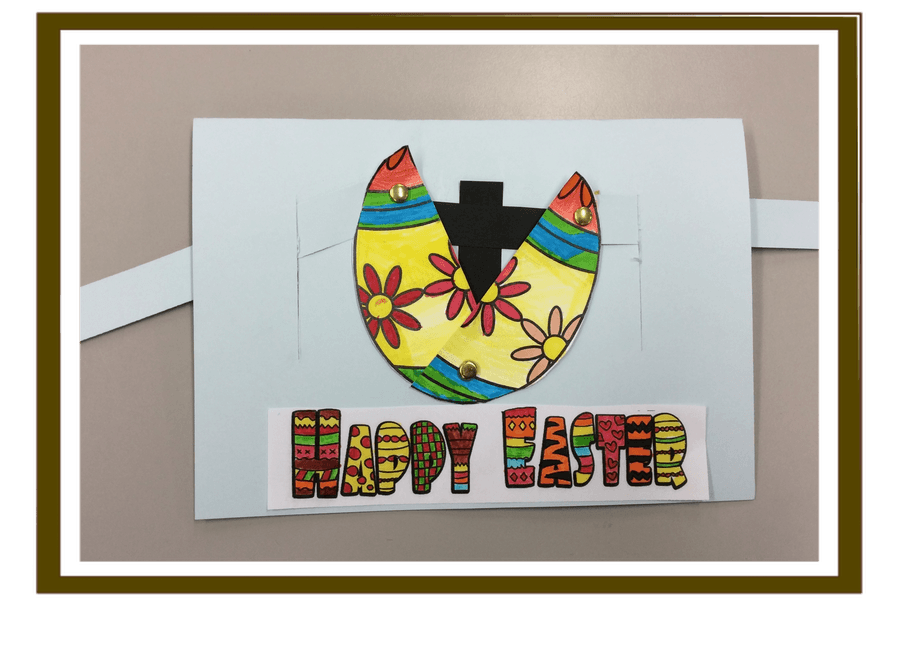 Science
In Science, we have been learning about Forces. We have been using scientific enquiry to investigate the forces of gravity and water resistance.
British Science Week
The theme of Science Week this year was 'Journeys' and we linked our lesson to the journey of water. We had the task of creating a filter to produce clean, fresh water, thinking about people across the World with limited access to clean water. We invited parents in to join in with our investigation and they enjoyed it just as much as we did! We discovered that some ideas worked better than others and we adapted our filters accordingly. Take a look at some of our creative ideas!
World Book Day
Year 5 completed the BBC live lesson on World Book Day. The Anti-Word League launched a super-evil plan to steal all of the words from our books and we had to help CBBC's Ben Shires to save World Book Day. Joining us at the Live Lesson were famous World Book Day authors and illustrators Malorie Blackman, Rob Biddulph and Cressida Cowell, who were there to answer questions from pupils all across the country.
Maths
In Maths, we have been learning about cubed numbers. We used cubes to create the cubed numbers. We have also been learning to multiply and divide digits by 10, 100 and 1000 by moving the digits along the place value columns. We used musical chairs to help us to do this. Take a look!
Child Mental Health Awareness Day
On Mental Health awareness day, we took part in a range of activities. We rated how we felt before the activities and then again after to see if our feelings had changed and we felt calmer and happier. We listened to some relaxing music, had a boogie to one of our favourite songs and created helping hands to show how we can help others. We all felt much more happier, relaxed and positive after.
Visit to St John Fisher
Year 5 really enjoyed their visit to St John Fisher where the children had the chance to take part in some fun team building activities and challenges.
Autumn Term
(Mrs Moorhouse)
Weeping Window
On 12th October, as part of our topic on the World Wars, we visited Middleport Pottery to see the Weeping Window display. We reflected on how each poppy represented someone who had given their life in combat.
We learnt more about the history of Middleport Pottery and we had chance to go inside a Victorian bottle kiln.
We now know what a saggar makers bottom knocker does!
Bikeability
Y5 have been developing their riding skills this week and a lot of the class have been learning how to safe safe on their bikes during Bikeability training.
RAF 100 Years Science Fair
To commemorate 100 years since the founding of the RAF, Staffordshire University held a Science Fair. We went along to experience lots of different stalls and activities celebrating Science, Technology and Engineering and had lots of fun getting hands-on with giant snails, snakes, robots and retro-toys from the past! A great morning was had by us all- and we even met our local MPs, Ruth Smeeth and Gareth Snell.
On 4th October it was the feast day of St Francis of Assisi, Y5's class saint. We learnt more about St Francis and wrote prayers inspired by St Francis's Canticle of Praise. Y5's assembly was all about the life of St Francis, we learnt that he was one of the first eco- warriors and that he is the patron saint of ecology and the environment.
Art- World War Commemorative Tiles
Inspired by our recent trip to Middleport Pottery, we have designed and painted our own commemorative war tiles. In keeping with Middleport's own design, we were restricted to using mainly black, white and red paints. After choosing our favourite design idea, we used tracing paper and china graph pencils to transfer the design outline onto the tiles, mixed the colours and painted.