British Values and Catholic Values
The government set out its definition of 'British values' in the 'Prevent Strategy' (2011), which was designed to prevent the extremism and religious radicalisation of young people. British values are considered by the present government to be democracy, rule of law, individual liberty, mutual respect and tolerance of those of different faiths and beliefs. The promotion of 'British values' is central to Catholic education because British values have their origin in the Christian values of our nation.
"We are proud that Catholic schools promote values that are both Catholic and British, including: respect for the individual, democracy, individual liberty, respect, tolerance and inclusiveness. Our schools promote cohesion by serving more ethnically diverse and poorer communities. Catholic schools provide high standards of education which are popular with parents from all social, economic and faith backgrounds." Paul Barber (Catholic Education Service 15 December 2014).
At St. Thomas Aquinas we recognise, not only the importance of helping our pupils to flourish academically but also spiritually, morally, socially and culturally, so they are fully prepared for life in British society and for their role as citizens, able to make the strongest possible contribution to the Common Good of all. We teach the importance of British Values by going much deeper into the meaning of what it means to live a good life, within a framework of Catholic Christian Values. This provides the context and meaning for understanding why British values are important. Our framework for understanding British values draws on the example of Jesus and his welcome and inclusion of all, which is developed in Catholic Social Teaching. At St. Thomas Aquinas we provide an education which focuses on the formation of the whole person and on our vocation and purpose in life. We place a significant emphasis on the celebration of individuality and difference within our communities and our calling to work for the Common Good, in the service of others. Our Catholic ethos, which includes Christian and British values, makes a difference to the way we work together and with our wider communities. Within this framework it would be impossible to overlook the governments view of British values expressed as 'democracy, rule of law, individual liberty, mutual respect and tolerance of those of different faiths and beliefs.'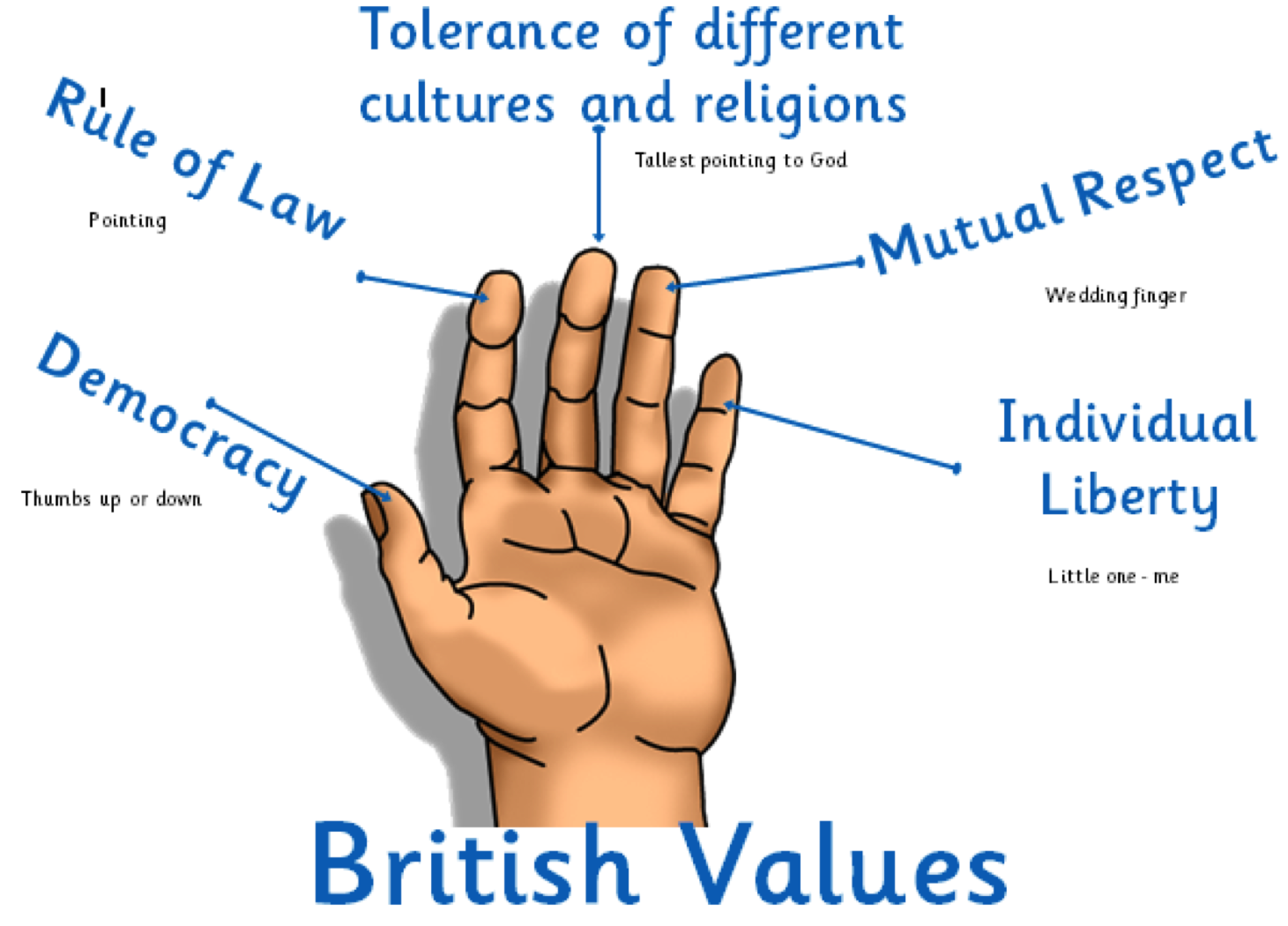 Democracy
Democracy is embedded at school. Pupils are always listened to by adults and are taught to listen carefully and with concern to each other, respecting the right of every individual to have their opinions and voices heard. Pupils also have the opportunity to air their opinions and ideas through our School Council and pupil questionnaires. The elections of the School Council members are based solely on pupil votes, reflecting our British electoral system and demonstrating democracy in action, making politics relevant to young people, so they can become active citizens within their communities.
The Rule of Law
The importance of laws, whether they be those that govern the class, the school, or the country, are consistently reinforced at school.
Pupils are taught from an early age the rules of the school. These are our School Rules, Playground Rules and Safety Rules. Each class also discusses and sets its own rules that are clearly understood by all and seen to be necessary to ensure that every class member is able to learn in a safe and ordered environment. Pupils are taught the value and reasons behind rules and laws, that they govern and protect us, the responsibilities that this involves and the consequences when laws are broken. Visits from authorities such as the Police and Fire Service help reinforce this message.
Individual Liberty
Pupils are actively encouraged to make choices, knowing that they are in a safe and supportive environment. As a school we educate and provide boundaries for young pupils to make informed choices, through a safe environment and an empowering education. Pupils are encouraged to know, understand and exercise their rights and personal freedoms and advised how to exercise these safely, for example through our E-Safety and PSHE lessons.
Mutual Respect
Respect is one of the core values of our school. Our pupils know and understand that it is expected and imperative that respect is shown to everyone, whatever differences we may have, and to everything, however big or small. The core value of respect underpins our work every day, both in and out of the classroom.
Respect for and tolerance of different faiths and religious and other beliefs
Our core value of respect ensures tolerance of those who have different faiths and beliefs. St Thomas Aquinas enhances pupils understanding of different faiths and beliefs through RE lessons, assemblies, PSHE lessons and events, such as Multi Faith Week.
All classes access 'Picture News' weekly, which provides a current news story, an image, a thought provoking question and a variety of resources linked to British Values. The Picture News resources provide opportunities for children to learn from our world and develop respect for others beliefs, feelings and faiths. They encourage exploration, discussion, debate, challenge and inspire children to learn!
At St Thomas Aquinas Catholic Primary School we are dedicated to promoting values which ensure our pupils develop a strong sense of social and moral responsibility, which will prepare them for life in modern Britain.
The Big Question
To learn about and celebrate our country, each class from Year 1 to Year 6 has been set a weekly discussion and debate challenge in the form of 'The Big Question'. An interactive display board has been set up in the hall and each class has been posting their responses onto the weekly challenge board. Please take a look at some examples from our British Values board.
If you could introduce a new law what would it be?
Does our teaching and learning in R.E have an impact on our understanding of the British values?