2020-current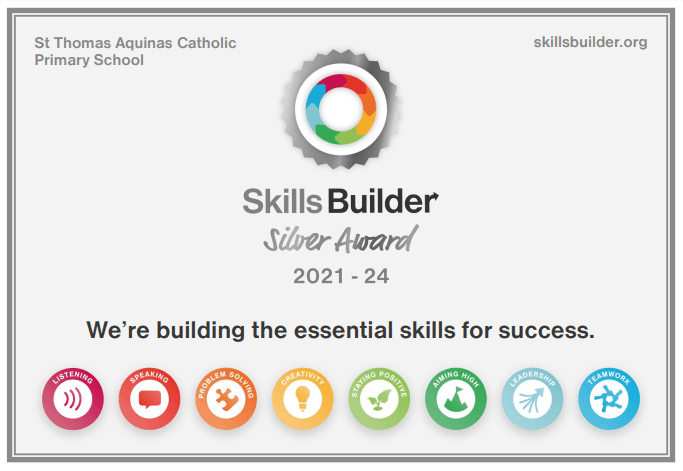 At St Thomas Aquinas Catholic Primary School, it has never been more important to build a set of essential skills to succeed in life for our children. The ability to creatively solve problems, to self-manage, to communicate effectively, and to work well with others. These are skills that are needed to do almost anything well. The need for these skills is clear, but there is still a gap – too many children do not build these skills to the level they need, and so miss out on opportunities to thrive in other parts of their lives. Too often this is an area where terminology is confused and confusing.
At St Thomas Aquinas Catholic Primary School, we are working with The Skills Builder Partnership to ensure every learner has opportunities to build eight essential skills to support them now and in the future. Research has shown that building these eight essential skills can support the emotional wellbeing and academic success of children and young people, as well as preparing them for life beyond school.
The essential skills are: Listening, Speaking, Problem Solving, Creativity, Staying Positive, Aiming High, Leadership and Teamwork.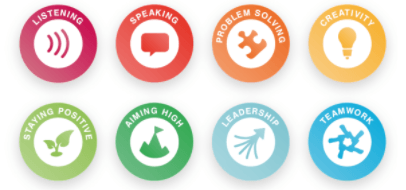 At St Thomas Aquinas, we are following the Framework which supports children to:
Understand their existing skills: Reflecting on where their essential skills currently are, and being able to identify any gaps they might have.
Join the dots: Using a consistent language and understanding of essential skills to understand how they are used and practiced in lots of different settings.
Capturing success: Seeing progress and being able to better articulate their skills.
See what progress looks like: Being able to see what the next steps are to improve their essential skills further.
Every term, children will be introduced to two/three essential skills via an assembly, focused lesson or a social story. Children will have opportunities to develop in the skills across the curriculum.
2020-2021
Autumn 1: Aiming High and Staying Positive
Autumn 2: Speaking and Listening
Spring 1: Home learning challenges linked to all skills to support well-being of all pupils
Click here to view home challenge Click here to view school challenge
Summer: Problem Solving and Creativity
Summer 2: Whole School Challenge using all skills
2021-2022
Autumn 1: Teamwork
Autumn 2: Leadership
Skills Builder has developed a Universal Framework that breaks each of the essential skills down into 16 teachable steps. We use this framework to teach and practise each of the eight skills at the appropriate level throughout school life.
Click here to view the progression of skills across the school document.
Each class displays the skills builder symbols. We have a whole school display that shows what the children now know, which shows clear progression of skills and steps.