Music can inspire, influence and motivate children. At St Thomas Aquinas we aim to provide a high quality music education which enhances the development of the whole child.
Areas such as creativity, social interaction, co-operation, discipline, focus, and memory, as well as speech, language, personal expression, and numeracy, all benefit from such an education.
Some children come to school having been exposed to a range of songs and rhymes, and are encouraged to develop this early musicianship in a range of activities and experiences at our school. However, for others, our school is the first opportunity for children to experience music.
Music is a universal language that embodies one of the highest forms of creativity. A highquality music education should engage and inspire pupils to develop a love of music and
their talent as musicians, and so increase their self-confidence, creativity and sense of
achievement. As pupils progress, they should develop a critical engagement with music,
allowing them to compose, and to listen with discrimination to the best in the musical
canon.
At St Thomas Aquinas Catholic Primary School, we believe that:
Music should be accessible to all;

Music encourages social growth, particularly in relation to self-esteem, self-awareness, and cooperation;

Music provides and deepens understanding of different cultures and traditions, and instils in children a respect for other ways of life.
Foundation Stage
By following the EYFS Framework, 'Expressive Arts and Design' St Thomas Aquinas aims to ensure that all pupils are taught to:
16-26 months:
Begins to move to music, listen to or join in rhymes or songs.
22-36 months:
Joins in singing favourite songs.

Creates sounds by banging, shaking, tapping or blowing.

Shows an interest in the way musical instruments sound.
30-50 months:
Sings a few familiar songs.

Taps out simple repeated rhythms.

Explores and learns how sounds can be changed.

Sings to self and makes up simple songs.

Makes up rhythms.
40-60 months:
Begins to build a repertoire of songs and dances.

Explores the different sounds of instruments.
Early Learning Goal:
Children sing songs, make music and dance, and experiment with ways of changing them.

They represent their own ideas, thoughts and feelings through music
Key stage 1
By following the national curriculum St Thomas Aquinas aims to ensure that all pupils are taught to:
use their voices expressively and creatively by singing songs and speaking chants and




rhymes

play tuned and untuned instruments musically

listen with concentration and understanding to a range of high-quality live and recorded




music

experiment with, create, select and combine sounds using the inter-related dimensions




of music.
Key stage 2
By following the national curriculum St Thomas Aquinas aims to ensure that all pupils are taught to:
play and perform in solo and ensemble contexts, using their voices and playing musical




instruments with increasing accuracy, fluency, control and expression

improvise and compose music for a range of purposes using the inter-related




dimensions of music

listen with attention to detail and recall sounds with increasing aural memory

use and understand staff and other musical notations

appreciate and understand a wide range of high-quality live and recorded music drawn




from different traditions and from great composers and musicians

develop an understanding of the history of music.
KS2 Choir Christmas Concert
Our KS2 Choir enjoyed performing in front of an audience at the Victoria hall. They were very proud to receive certificates for participating in this wonderful Christmas concert.
KS2 Christmas Assembly
All of the children in KS2 enjoyed performing in the Christmas assembly. The children put on a great show for the rest of the school, demonstrating a variety of musical talents.
Royal Stoke Hospital Christmas Carol Concert
We were very pleased as a school to be able to perform at the hospital during the Christmas period. The children provided a jolly and fun performance, singing traditional Christmas carols.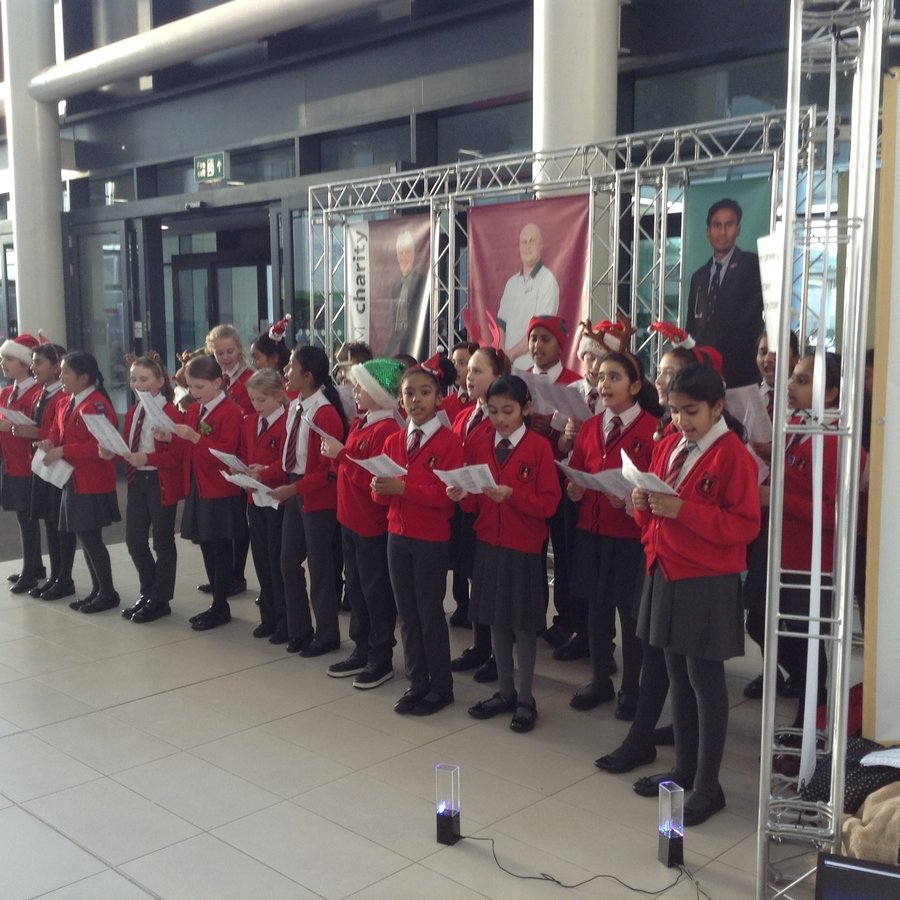 Christmas Carols at Royal Stoke Hospital
KS2 Choir- please use the links below to practise the songs in the lead-up to our visit to the hospital.
Rudolph the Red-Nosed Reindeer