The Catholic Life of our School
Our school is served by the parish of Our Lady of the Angels and St Peter in Chains, Hartshill. Fr. George is our parish priest and we enjoy him coming into school to celebrate Mass with us. We are very blessed to have the support of the parishioners at school and they are always extremely welcome to join us in our school Masses.
Values and Virtues: The Catholic Pupil Profile
Each half term, we focus upon different Catholic values and virtues, demonstrated by Jesus Christ in his own life.
Our Catholic Values and Virtues are:
Grateful for their own gifts, for the gift of other people, and for the blessings of each day; and generous with their gifts, becoming men and women for others.
Attentive to their experience and to their vocation; and discerning about the choices they make and the effects of those choices.
Compassionate towards others, near and far, especially the less fortunate; and loving by their just actions and forgiving words.
Faith-filled in their beliefs and hopeful for the future.
Eloquent and truthful in what they say of themselves, the relations between people, and the world.
Learned, finding God in all things; and wise in the ways they use their learning for the common good.
Curious about everything; and active in their engagement with the world, changing what they can for the better.
Intentional in the way they live and use the resources of the earth, guided by conscience; and prophetic in the example they set to others.
Schedule for 2019-20
Autumn 1 Grateful & Generous
Autumn 2 Attentive & Discerning
Spring 1 Compassionate & Loving
Spring 2 Faith-filled & Hopeful
Summer 1 Eloquent & Truthful
Summer 2 Learned & Wise
Each week, every class teacher chooses a child who has actively demonstrated these virtues in school. We celebrate these virtues in our Monday Gospel assembly, where the chosen child from each class receives a certificate and badge and a comment from the class teacher about the reason for their choice. This half term, our Catholic Virtues are 'Faith-filled & Hopeful' focused upon children who are . We are therefore looking out especially for children who live out their own faith in their daily treatment of others, with Jesus Christ as their example, and have a joyful optimism in attitude and action.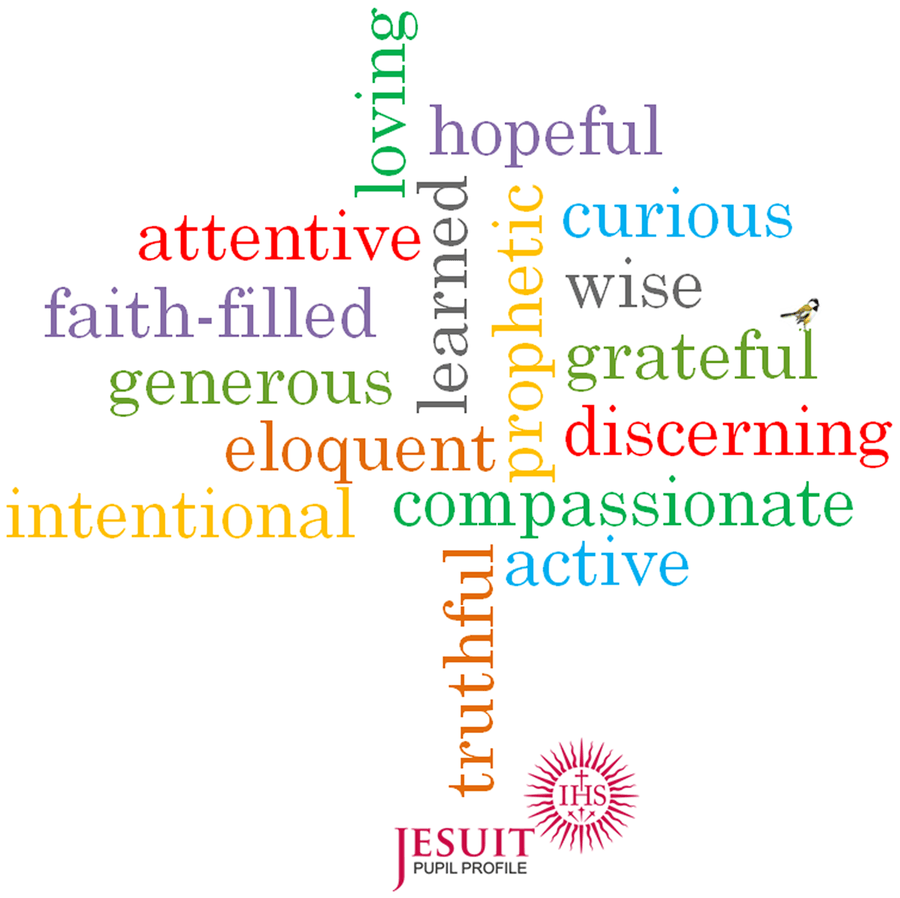 Click below to read our most recent 'OUTSTANDING' inspection:
COVID-19: Coronavirus
We are, of course, worried that the closure of our school could affect the children's spiritual life, education, health and well-being. Please read the information below and use the links to help your child on their spiritual journey during this challenging time for us all.
All the different 'bubbles' in school joined in with the Good Shepherd Mass that was live streamed from St. Chad's Cathedral in Birmingham on Monday 29th June at 10:00 am. It was a beautiful Mass and we enjoyed being together to celebrate it.
For some of our Year 3 pupils, today was planned to be your Big Day, the day you celebrated your First Holy Communion. We are as disappointed as you that it had to be postponed. Blessings on you all and your families. You are all in our thoughts and prayers. This prayer will help you continue on your journey of preparing for your First Holy Communion: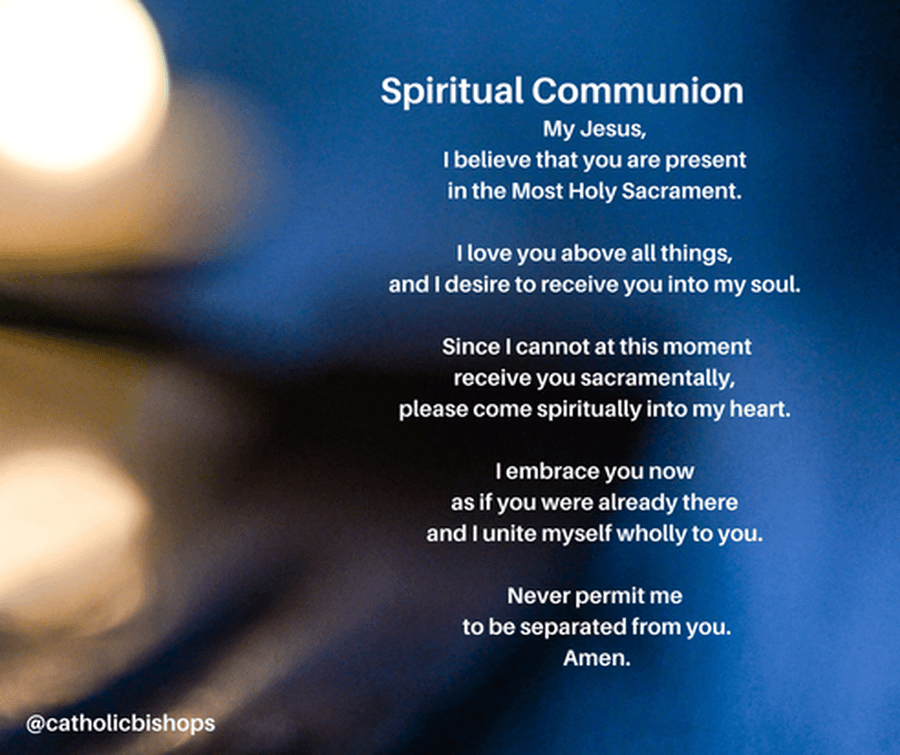 Please view the short video message below in preparation for the Feast of Ss. Peter & Paul. This year the feast is transferred to Sunday 28th June.
On what should have been the Sacrament of Confirmation for some of our Year 6 children on Saturday 20th June, we ask the Holy Spirit to continue to guide and protect us. We are thinking and praying for you and your families. God bless each and every one of you.
If you missed Archbishop Bernard's Mass (for The Sick and Their Families, NHS Front-line Workers and those working in Social Care) last Thursday, you can listen to or read his homily here:
www.cbcew.org.uk/home/our-work/health-social-care/coronavirus-guidelines/masses-for-the-sick-and-their-families-nhs-front-line-workers-and-those-working-in-social-care/
Celebrating Mass
Despite the fact that we can't gather for Mass in our churches, many priests and bishops are broadcasting their Masses live online.
https://www.cbcew.org.uk/home/our-work/health-social-care/coronavirus-guidelines/live-catholic-mass-online/
Cathedral Masses for the Sick and their families, NHS Front-line workers and those working in social care.
Thursday 18 June St. Chad's Cathedral, Birmingham celebrated by His Grace, Archbishop Bernard at 7:00.
www.mcnmedia.tv/camera/st-chads-cathedral-birmingham
This week's Thursday Mass is being celebrated by Bishop Pat McKinney (formerly of the Archdiocese) www.youtube.com/bishoppatrickmckinney
CAFOD Assembly
In school, we took part in the first ever live assembly on Thursday 18 June at 10:00am
You can take part in the assembly at home by clicking on the link below.
cafod.org.uk/News/Events/Creating-a-hopeful-summer.
Online liturgies
Dan and Emily from One Life Music have kindly recorded a liturgy for schools and home, this will be updated on a weekly basis. This is such a wonderful way to bring us together as a community of prayer and I am sure that we will all be strengthened by it.
week 9 https://www.youtube.com/watch?v=ql9BiElIKvc
week 8 https://www.youtube.com/watch?v=GiSF39uV4M4
week 7 https://www.youtube.com/watch?v=8zbVjVIeqTw
week 6 https://www.youtube.com/watch?v=jq9R2QMkqyo
week 5 https://youtu.be/bs36zxL_EE8
week 4 https://youtu.be/H6nKkS4GwKs
week 3 https://youtu.be/c9oohwnp-tY
week 2 - Good Friday https://youtu.be/a5ERfa0YmqM
week 1 https://www.youtube.com/watch?v=NL-kS4ZP6hs&feature=youtu.be
Christian Meditation
The Catholic Children's Society in collaboration with the World Community for Christian Meditation have a YouTube channel. New meditations are posted every Monday, Wednesday and Friday for children and every Thursday for young people. https://www.bdes.org.uk/resources-for-prayer-and-learning.html
The following video was created by the team Kenelm Youth Trust based on a prayer written by Fr Tim.
https://www.youtube.com/watch?v=4kq9ytiaGSA
Praying with your children at home
Prayer is fundamental to the life of our school and the children have many opportunities to pray together frequently throughout the school day. It is important that the children continue to pray, especially during this difficult time, and that you come together as a family to pray.
Here are some prayers that you can pray with your children at home.
https://www.tentenresources.co.uk/primary-subscription/prayers-for-home/15-prayers/

Each week there will be new resources for you to share in prayer together.
Sunday Liturgy for Families
An opportunity for families to lead their own Sunday liturgy following the order of the Mass, leading to 'Spiritual Communion'.
https://www.tentenresources.co.uk/primary-subscription/prayers-for-home/sunday-liturgy-for-families/
Daily Prayers for Home
Daily prayers rooted in the Sunday Gospel for families to pray together.
https://www.tentenresources.co.uk/primary-subscription/prayers-for-home/daily-prayers-for-home/
Assembly Video for Home
https://www.tentenresources.co.uk/living-your-best-life
RE Resources
https://www.bdes.org.uk/resources-for-prayer-and-learning.html
http://www.wednesdayword.org/home/childrens.htm
http://www.natre.org.uk/about-natre/free-resources-for-you-and-your-pupils/?
utm_source=emailmarketing&utm_medium=email&utm_campaign=more_free_home_learning_resources_for_pupils_are_available_now&utm_content=2020-03-27
https://cafod.org.uk/Education/Primary-teaching-resources/Home-learning-primary
Stations of the Cross
Praying the Stations of the Cross after school.
CAFOD Lenten Assembly
Today, we welcomed Phil Mayland into school to deliver an assembly to the whole school. We discussed how CAFOD is working with communities around the world to support people defending their rights. Our pupils were given the opportunity to see the relationship between taking action and supporting communities overseas.
Sacrament of Reconciliation
Congratulations to the members of Year 3 who received the sacrament of Reconciliation for the first time on Thursday 5th March at Our Lady of the Angels & St. Peter in Chains.
The children received the sacrament with reverence and respect.
Thank you to all members of the school and parish who prepared the children for the Sacrament.
St David's Day
The Year 6 pupils from St. David's team delivered an informative assembly to the whole school. We learnt about St David himself and the traditions related to this special day.
Dydd Gŵyl Dewi Hapus!
Ash Wednesday
We held our Ash Wednesday Mass in school today. Father George explained the meaning of Lent to all the children before we buried the 'Alleluia' and Ashes were distributed to all staff, children and visitors. At the end of today's Mass, Father George blessed the bibles in school as part of celebrating the Year of the Word.
Stations of the Cross
During Lent, every Thursday after school we will be meeting together as a school to visit the Stations of the Cross.
As we walk with Jesus on his way to the cross we remember how much He loves us. He gave up His life for us so that we could be free from sin and live together in His love, now and forever.
It would be lovely if you and your family could join us each Thursday.
CAFOD Workshops
KS2 Pupils took part in an interactive session on the UN Convention of the Right of the Child led by CAFOD. The children learned about the lives of children in Lima, Peru, and they compared their daily routines to ours in the UK.
They loved using the Zappar app which brought the pictures to life!
Saint of the Month
The PALS delivered a beautiful assembly all about the life of St. Brigid. We were so lucky to have a St Brigid's cross sent to us all the way from Ireland.
Bake Sale
Some of our Year 5 pupils. organised a Bake sale. they raised a grand total of £177.68 which is a great achievement. Well done to all involved! The money raised will be split with half going to the Donna Louise Charity and half to school. Thank you to parents/families for supporting our Bake Sale.


Happy Feast Day!
We all had a lovely day celebrating the Feast of St Thomas Aquinas. He is the patron saint of our school.
All the children, staff and some parishioners gathered with Fr. George to celebrate Mass together. The children wrote and read their own bidding prayers and sang beautifully for the Mass.
Saint of the Month
Our PALS delivered a fantastic Saint of the month on St Agnes in January, we learnt lots about the life of this saint.
Carol Service
On Monday 16th December, our Year 6 children led the school in a re-enactment of the Nativity, through carols, scriptural readings, drama and reflections. Thank you to all of our parents and parishioners who came along to support and sing!
Fill-A Sock-Appeal
Again year, we have decided to support a local homeless charity and children and families have been busy filling socks to give to the homeless at Christmas. We have been overwhelmed by the generosity of our families and have had over 100 socks donated! Thank you so very much- we will hopefully make many less fortunate people a little more comfortable this Christmas time.
Saint of the Month
Saint Lucy was our saint of the month in December. A very well researched assembly on her life was delivered by the PALS in a whole school assembly.
St. Andrew's Day
Latha fèill Anndrais sona dhuibh (Happy St. Andrew's Day in Sottish Gaelic)
Our Year pupils from St Andrew's team, planned and delivered a fabulous assembly to celebrate the feast of St. Andrew. All the children in St. Andrew's team marked the occasion by wearing blue clothes - the colour of their house team.
MAC Mass
On Friday 22nd November our Year 4 children celebrated Mass at Holy Trinity along with pupils from the other schools in the MAC. The children's behaviour was excellent, as was their reading and singing. Well done to all of the children, and thank you to all, who prepared the Mass.
Saint of the Month
In November, our Saint of the Month is St. Martin de Porres whose feast day is November 3rd.. Our PALS team researched the life of this inspirational Saint and then wrote and presented an assembly to the whole school to share their learning with them.
Remembrance Day Assembly
Mrs Bekalo led a fantastic assembly about Remembrance Day and how war has affected people around the world over the decades. The children were respectful and thoughtful throughout the assembly and completed a minute's silence in honour of Remembrance.
Our Harvest Charity
THANK YOU!
We have collected 15 boxes of very beneficial items for our local food bank.
Saint of the Month
Our PALS researched the life of Saint Therese of Lisieux. They organised and presented an assembly to the whole school to share their findings about this inspirational Saint. Some of the staff learnt some new fantastic facts in the assembly too!
Prayer with Archbishop Bernard
Today, as a whole school, we gathered together to celebrate October as an Extraordinary Missionary Month. We enjoyed a special time of prayer live with Archbishop Bernard Longley and prayed the Joyful Mysteries of the Rosary. The children listened and joined in with the hymns too. Well done to the children and staff who were so prayerful during this time.
The Canonisation of Blessed John Henry Newman
The children have been learning about the life of Blessed John Henry Newman, in the lead up to his canonisation in Rome, by Pope Francis, on Sunday 13th of October. We gathered together as a whole school to celebrate this occasion, the children were interested in finding out about our first English saint since 1600 and his journey to becoming a saint.
CAFOD
On Monday, 30th September, we had a visit from Phil Mayland from CAFOD, who came to tell us all about how we can Brighten up this Harvest. We learnt about the good works of CAFOD and how our charitable actions are helping to make the world a better place. We learnt a lot about our responsibilities as children of God and are grateful to Mr Mayland for his time and commitment to such a worthy Catholic charity. We will be fund-raising over the next few weeks to help those in need around the world and in our local area.
The Year of the Word - The God Who Speaks

30th Sep'19 - 31st Dec '20

celebrating, living and sharing God's word

Launch: 30th September 2019 on the Feast of St Jerome
The Catholic Bishops' Conference of England and Wales have designated 2020 as 'The God Who Speaks': A Year of the Word to celebrate the 10th anniversary of Verbum Domini - Pope Benedict XVI's Apostolic Exhortation on 'The Word of the Lord', and the 1600th anniversary of death of St Jerome, who translated the Bible into Latin.'

We are invited to listen afresh to the word of God as did Our Blessed Lady at the Annunication, to encounter anew the presence of that word, and to proclaim it afresh in the Church and the World.
For more information please visit:
Official Prayer
Living God,
you walk alongside us
and speak to us throughout the Scriptures.
Your Son, Jesus Christ,
listens to our hopes and fears
and shows us how to live for one another.
Send us the Holy Spirit
to open our hearts and minds
so that we may be your witnesses throughout the world.
Amen
Your word is our path and your truth is our light.
This day and every day.
Our Lady of the Annunciation Pray for us
St Matthew Pray for us
St Jerome Pray for us
Foodbank
Sue from the Food bank in Stoke came into school to deliver an assembly to the children. They found out what The Food Bank does, learnt about social responsibility and how easy it is for them to make a real difference.
Saint of the Month
Our newly appointed PALS, Hana, Macy, Maria, Maya & Mischa researched the life of St. Gregory the Great. They planned, produced & delivered a fabulous assembly to the whole school about the life of this Saint. Well done girls! We look forward to finding out about other saints throughout the year.
Saint of the Month
For our Last Saint of the Month of this academic year we learnt about St Anne and St Joachim. The PALS once again, researched and delivered a wonderful assembly. Thank you so much for all your hard work throughout the year, you are an absolute credit to our school.
Alton Castle
Year 3 and Year 6 enjoyed a fabulous retreat at Alton Castle to celebrate making the Sacraments of Reconciliation, Eucharist and confirmation. During our visit we are able to take part in varied activities e.g. reflection, music, meditation, discussion groups, team building and prayer services. We all had a fantastic day and thought it was an uplifting, spiritual and fun experience.
Vocations Week
The whole school participated in Vocations week. Many people who came in witnessed their faith through their vocation, from school Eucharistic ministers to seminarians, school governors to priests. We met people who believe that their actions as a job allow them to bear witness to their faith. We learned that that all of us, even now, have a vocation, it is not something that happens in the future, but something that is taking place right at this very minute. It was a thoroughly enjoyable time and the children had the opportunity to really evaluate their purpose in life and think about their own future.
Confirmation
Congratulations to all our Year 6 pupils who celebrated the Sacrament of Confirmation on Sunday 9th June at Our Lady of the Angels & St. Peter in Chains. Thank you to Bishop David who confirmed the pupils. Thank you to Fr. George and everyone in the school and parish community who helped prepare the children for their special day. The children were SHINING and were a credit to their families and the school We hope you enjoyed your special occasion and continue to grow in faith with the Holy Spirit guiding you along the way.
Saint of the Month
Our Saint this Month is St Oscar Romero. Our PALS team researched the life of this inspirational Saint and then wrote and delivered a fabulous assembly to Key Stage 2 to share their findings with them.
May and October Reflections
Throughout the month of May and October, all are welcome to come and join our Rosary Club, which is held every lunchtime with a reflection on one of the Mysteries of the Rosary followed by prayers dedicated to Mary, our Mother. The children are invited to pray together for their own intentions.
Celebrating Saint George's Day
The Year 6 pupils from St. George's team led an assembly about St. George to the whole school. We learnt lots of things about him and heard the legend of St George and the dragon.
Saint of the Month
Our PALS delivered a fantastic assembly on the lives of Ss. Mary and Elizabeth. They read us stories and we watched videos on poignant parts of the lives of these two very special ladies.
St. Patrick's Day
Our Year 6 pupils from St. Patrick's team delivered a fabulous assembly about the life of St. Patrick to the whole school. During this we learnt about Ireland and Irish traditions.
"Lá Fhéile Pádraig sona duit!"