The Catholic Life of our School
Our Catholic Mission Statement
Our school is served by the parish of Our Lady of the Angels and St Peter in Chains, Hartshill. Fr. George is our new parish priest and we look forward to sharing many school Masses with him. We are very blessed to have the support of the parishioners at our school Masses and enjoy celebrating Mass with them.
Values and Virtues: The Catholic Pupil Profile
Each half term, we focus upon different Catholic values and virtues, demonstrated by Jesus Christ in his own life.
Our Catholic Values and Virtues are:
Grateful and Generous

Attentive and Discerning

Loving and Compassionate

Faith-filled and Hopeful

Eloquent and Truthful

Learned and Wise

Curious and Active

Intentional and Prophetic
Each week, every class teacher chooses a child who has actively demonstrated these virtues in school. We celebrate these virtues in our Monday Gospel assembly, where the chosen child from each class receives a certificate and badge and a comment from the class teacher about the reason for their choice. This half term, our Catholic Virtues are focused upon children who are 'Grateful & Generous'. We are therefore looking out especially for children who live out their own faith in their daily treatment of others, with Jesus Christ as their example, and have a joyful optimism in attitude and action.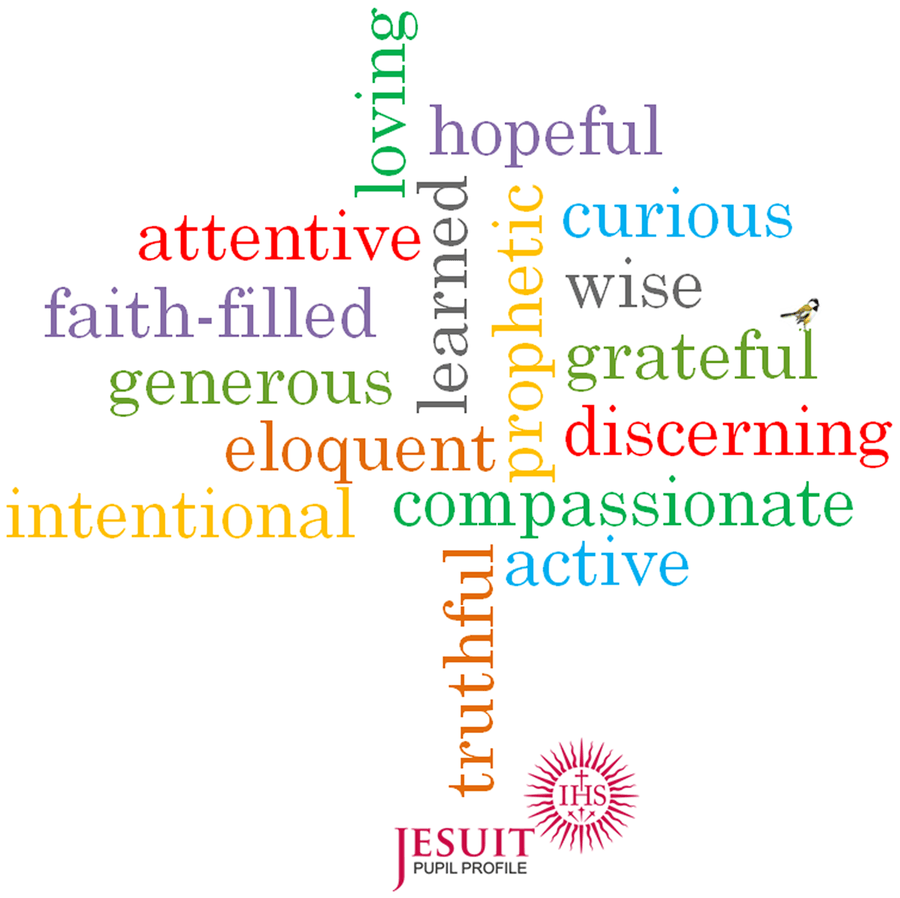 Click below to read our most recent 'OUTSTANDING' inspection:
Saint of the Month
Our Last Saint of the Month for this academic year was St Anne and St Joachim. The PALS once again, researched and delivered a wonderful assembly. Thank you so much for all your hard work throughout the year, you are an absolute credit to our school.
Alton Castle
Year 3 and Year 6 enjoyed a fabulous retreat at Alton Castle to celebrate making the Sacraments of Reconciliation, Eucharist and confirmation. During our visit we are able to take part in varied activities e.g. reflection, music, meditation, discussion groups, team building and prayer services. We all had a fantastic day and thought it was an uplifting, spiritual and fun experience.
Vocations Week
The whole school participated in Vocations week. Many people who came in witnessed their faith through their vocation, from school Eucharistic ministers to seminarians, school governors to priests. We met people who believe that their actions as a job allow them to bear witness to their faith. We learned that that all of us, even now, have a vocation, it is not something that happens in the future, but something that is taking place right at this very minute. It was a thoroughly enjoyable time and the children had the opportunity to really evaluate their purpose in life and think about their own future.
Confirmation
Congratulations to all our Year 6 pupils who celebrated the Sacrament of Confirmation on Sunday 9th June at Our Lady of the Angels & St. Peter in Chains. Thank you to Bishop David who confirmed the pupils. Thank you to Fr. George and everyone in the school and parish community who helped prepare the children for their special day. The children were SHINING and were a credit to their families and the school We hope you enjoyed your special occasion and continue to grow in faith with the Holy Spirit guiding you along the way.
Saint of the Month
Our Saint this Month is St Oscar Romero. Our PALS team researched the life of this inspirational Saint and then wrote and delivered a fabulous assembly to Key Stage 2 to share their findings with them.
May and October Reflections
Throughout the month of May and October, all are welcome to come and join our Rosary Club, which is held every lunchtime with a reflection on one of the Mysteries of the Rosary followed by prayers dedicated to Mary, our Mother. The children are invited to pray together for their own intentions.
Celebrating Saint George's Day
The Year 6 pupils from St. George's team led an assembly about St. George to the whole school. We learnt lots of things about him and heard the legend of St George and the dragon.
Saint of the Month
Our PALS delivered a fantastic assembly on the lives of Ss. Mary and Elizabeth. They read us stories and we watched videos on poignant parts of the lives of these two very special ladies.
St. Patrick's Day
Our Year 6 pupils from St. Patrick's team delivered a fabulous assembly about the life of St. Patrick to the whole school. During this we learnt about Ireland and Irish traditions.
"Lá Fhéile Pádraig sona duit!"
Ash Wednesday
We held our Ash Wednesday service in school today. Deacon Tony explained the meaning of Lent to all the children before we buried the 'Alleluia' and Ashes were distributed to all staff, children and visitors.
St. David's Day
The Year 6 pupils from St. David's team delivered an informative assembly to the whole school. We learnt about St David himself and the traditions related to this special day.
Dydd Gŵyl Dewi Hapus
Our PALS researched the life of St. Valentine, they organised and presented an assembly to Key Stage 2 to share their findings about this Saint. Some of the teachers learnt some new fantastic facts in the assembly too! .
Saint of the Month
Happy Feast Day!
An extremely special Saint of the month for us in January - Today we celebrated the Feast of St Thomas Aquinas, the patron saint of our school. A very well researched assembly on the life of St Thomas Aquinas was delivered by the PALS in a whole school assembly.
On Monday 17th December, our Year 6 children led the school in a re-enactment of the Nativity, through carols, scriptural readings, drama and reflections. Thank you to all of our parents and parishioners who came along to support and sing!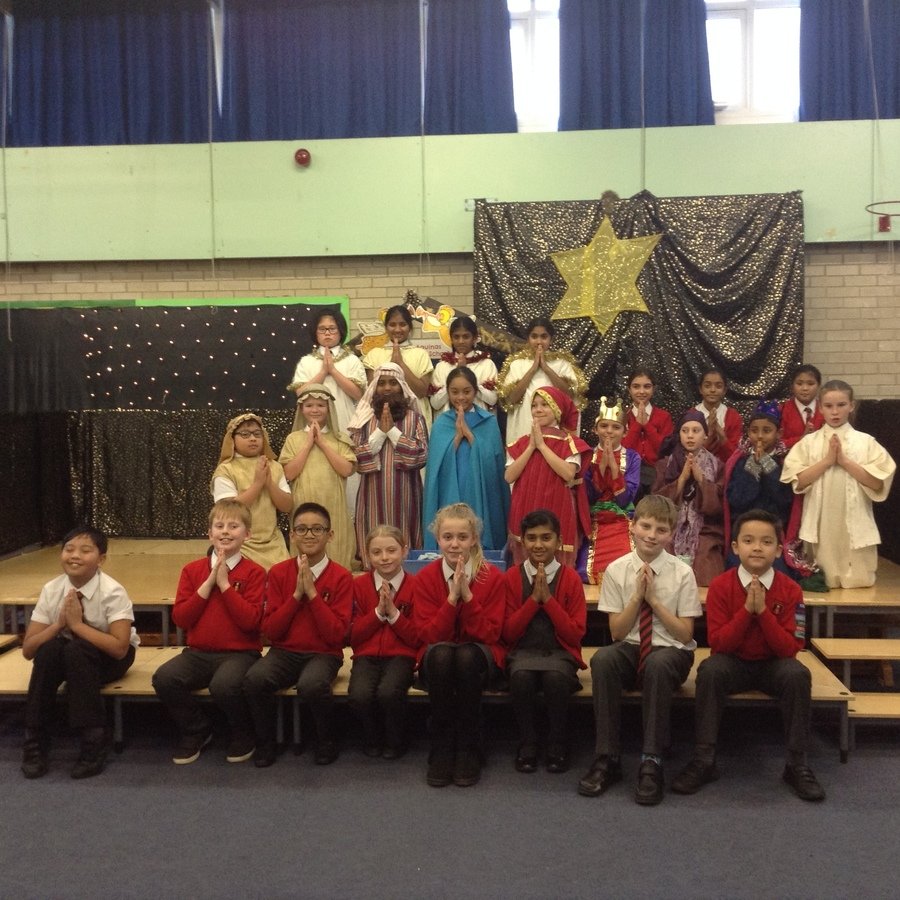 Choir at the University Hospital Stoke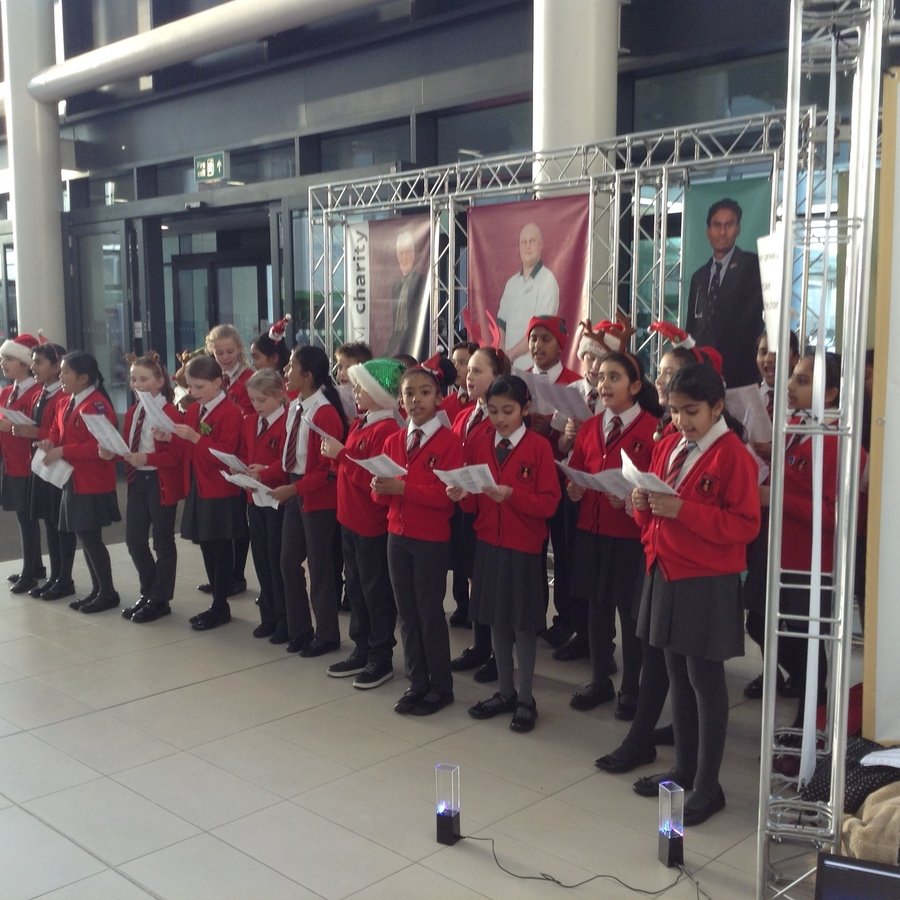 On Tuesday 11th December, our choir from Years 5 and 6 sung at the Royal Stoke University Hospital, to raise money for the hospital. Thank you to all of our parents, grandparents and family members who came along for moral support. We will let you know how much we have raised once confirmed.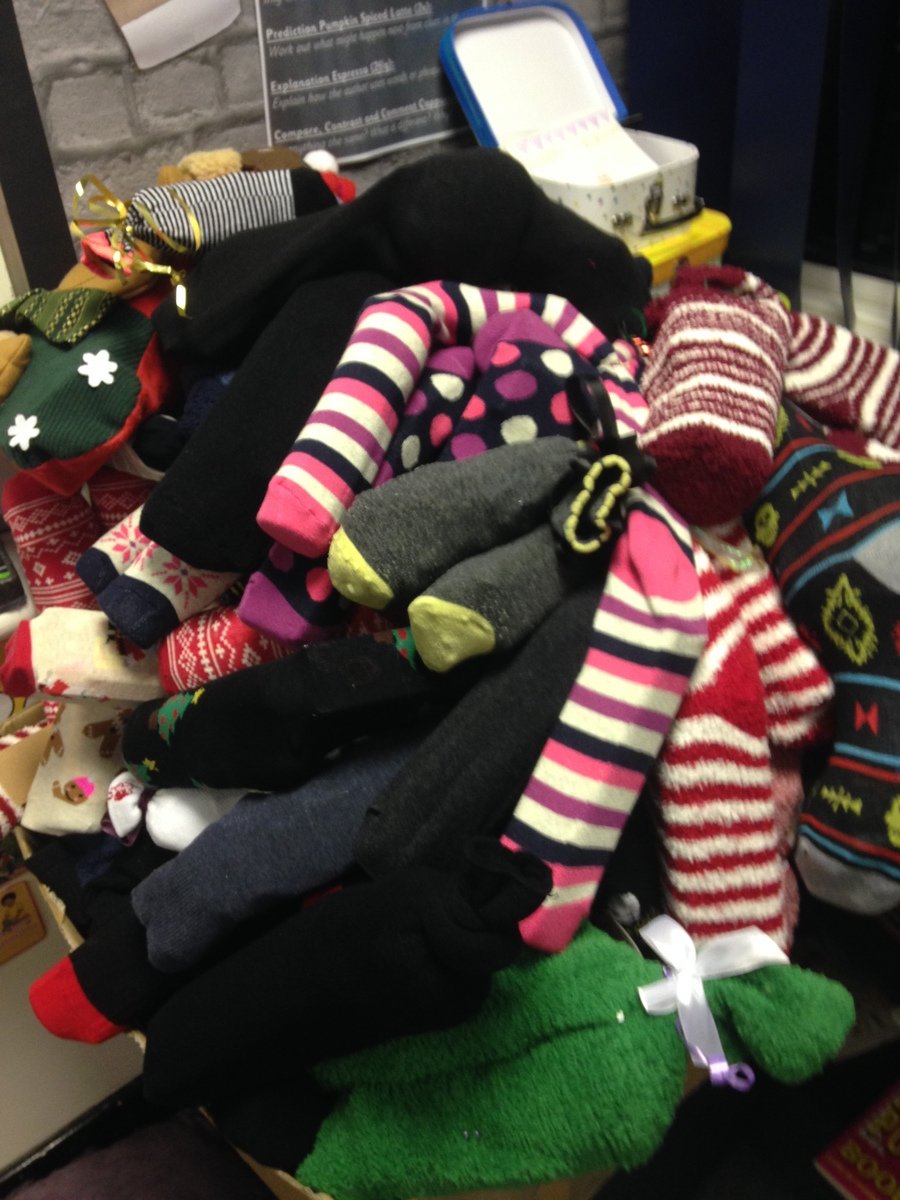 This year, we have decided to support a local homeless charity and children and families have been busy filling socks to give to the homeless at Christmas. We have been overwhelmed by the generosity of our families and have had over 150 socks donated! Thank you very much- we will hopefully make many less fortunate people a little more comfortable this Christmas time.
In December, our Saint of the Month is St Stephen, the first martyr, whose feast day is on Boxing Day. Our PALS team researched the life of this inspirational Saint and then wrote and presented an assembly to Key Stage 2 to share their learning with them. Look out for who next month's saint might be- a holy man who is very close to our hearts!
MAC Mass
On Thursday 29th November 2018 our Year 4 children celebrated Mass at St Wulstan' Church along with pupils from the other schools in the MAC. The children's behaviour was excellent, as was their reading and singing. Well done to all of the children, and thank you to all, who prepared the Mass
Remembering 100 Years of The Great War
As a school, we have been remembering the sacrifice made for us during The Great War in a variety of different ways. In class, every child has made their own poppy from recycled materials and then placed those in our Prayer Garden, where we prayed for those who fought and died for our freedom. We have also been preparing and leading class worship within our own classes during November.
At home, we created our own art works. and learnt and wrote poetry in English; all of this hard work has contributed to creating a striking whole-school memorial display in our school hall.
BBC Radio Stoke visited our school and interviewed some of our children and staff: listen to the interview here:https://www.bbc.co.uk/sounds/play/p06r56xz / watch the interview here:https://www.facebook.com/bbcradiostoke/videos/2007591786199448/UzpfSTE0NjM5NzA4MjQ0NTc0NTo1OTM3MzQ5NDQzNzg2MjE/.
On November 9th, Year 6 led us in a powerful, thought-provoking collective worship where we prayed, sung and reflected upon the importance of The Great War in our British history. Later on that day, the Year 5 and 6 children performed 'White Cliffs of Dover', 'Amazing Grace' and 'In Flanders Fields' at The Regent Theatre to mark the centenary of the end of The Great War. Finally, our Head Girl Rosie, and Head Boy Christian, represented our school and paid tribute by laying a wreath at the local war memorial at Hartshill during a memorial service. Many wonderful testimonies to express the gratitude that we all have for the great warriors who made our country a better place for our future.
CAFOD Assembly and Workshop
On Monday, 1st October, we had a visit from Joe Andrew from CAFOD, who came to tell us all about how we can Brighten up this Harvest. We learnt about the good works of CAFOD and how our charitable actions are helping to make the world a better place. Year 6 them had a workshop with Mr Andrew, learning all about refugees and the crisis they find themselves in. We considered how Mary and Joseph we refugees and how the current war in Syria and the Holy Land is directly affecting people today. After our discussion, we then responded in our own personal way, by either writing poetry, thoughts and feelings or by drawing an image about our learning. Finally, we ended our thought-provoking session with a time of prayer and reflection. We learnt a lot about our responsibilities as children of God and are grateful to Mr Andrew for his time and commitment to such a worthy Catholic charity. We will be fund-raising over the next few weeks to help those in need around the world and in our local area.
Vocations Assembly with SJFCC
On Monday 17th September, some of our wonderful past pupils came to visit from our feeder high school, St. John Fisher Catholic College, to share an assembly about vocations with us. They shared the Parables of the Talents with us, and we learnt that with God's help, we can achieve anything. At the end of the assembly, we were left to think about St. Catherine of Sienna's famous quote, "Be who God meant you to be, and you will set the world on fire!"