Welcome to Year 1's Class Page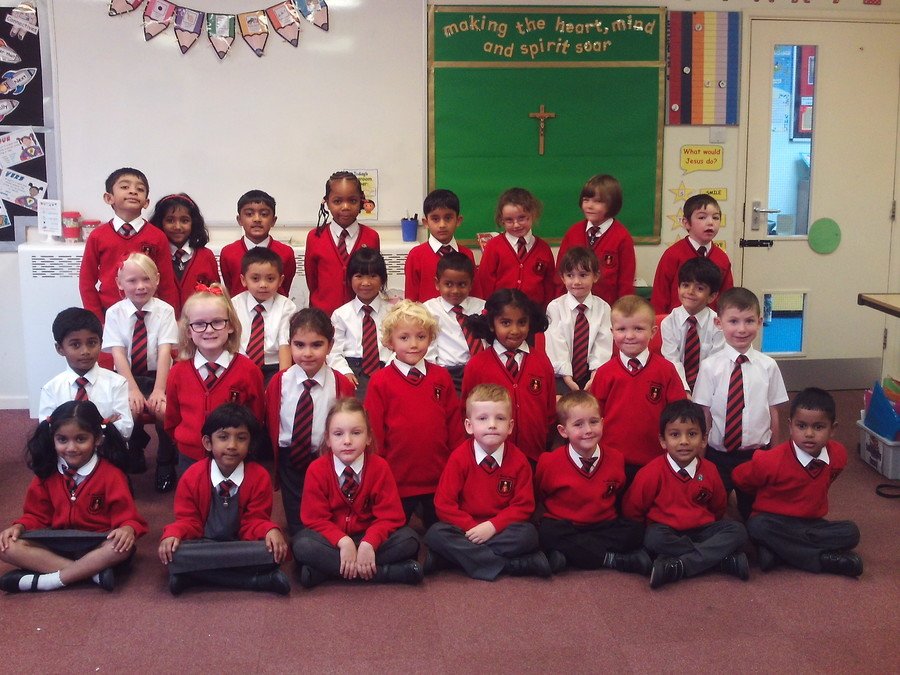 Sudbury Museum of Childhood
On 1st April we went on an educational visit to Sudbury Hall linked to our topic of 'Toys'. We had a workshop looking at the material that toys are made from today and how the material of toys has changed over time. We explored and played with the kinds of toys children would have played with on the streets such as cup and ball, marbles, spinning tops and quoits. We discussed what young children would have had to do at age 6 and we even climbed a chimney. We explored toys from the past and how they look different to those of today. We impressed our guides with our super knowledge and questioning skills. We had such a busy, exciting and memorable day!
St Joseph's Day
March 19th is St Joseph's feast day. St Joseph is our class saint so we celebrated this special day by planning our own liturgy. We decided to sit in a triangle shape as it has 3 sides just like the trinity and the number of members in Joseph's immediate family. We wrote and shared prayers on the shape of lilies, the flower associated with St Joseph and collected food to give to those less fortunate as part of our Lenten alms-giving. We ended our celebration by having our own mini feast of biscuits.
World Book Day
Our class text during this week was Supertato. We made predictions, orally re-told the story, created Wanted posters and made our own super-vegetable characters. We enjoyed the story so much that Mrs Hellawell bought some more books by Sue Hendra to share with us. On World Book Day we dressed as characters from different stories. Mrs Hellawell was a villian just like the Evil Pea in Supertato.
Love Assembly
On Friday 8th February we shared an assembly based on the theme of LOVE. We discussed how those who show love are true superheros in the eyes of God. We thought about actions or words that show love and how we can show the qualities of patience, kindness and truthfulness. We acted out the parable of The Good Samaritan and how the Samaritan acted with love.
KS1 Advent Liturgy
On 5th December KS1 celebrated the start of Advent with a beautiful liturgy together. We sung one of our favourite hymns 'Awake Awake', read the Gospel about John the Baptist preparing for the coming of the Lord and we discussed how we can prepare and be ready for Jesus' coming. We wrote a promise on a footprint and made a path for the Lord to come. We were amazed because at the end of the liturgy, the path actually looked like a footprint. Can you spot this shape too?
Remembrance
In November, we remember! To mark the centenary of the end of World War I, we have written a non-fiction text about animals involved in the war and made special medals to commemorate their service. We made poppies using recycled water bottles and each said a special prayer for a Staffordshire soldier. We planned and delivered a whole class collective worship session and wrote our own prayers to remember the brave soldiers that fought for our freedom. We will remember them!
Our Wonderful World Assembly
We wrote Autumn poems, painted Autumn pictures, wrote prayers thanking God for his Creation, performed songs and learnt Makaton to 'It's a Wonderful World'. We performed amazingly in our first assembly and many staff commented on how wonderful our assembly was. Mrs Hellawell was very proud of each and everyone of us! We are born performers!
Autumn - Seasonal Change
In Science, we observed the changes that take place during Autumn. We went on an Autumn walk and used our senses to write Autumn poems. We collected Autumn items and made our own Leaf Man. In English, we created stories using our Leaf Man and ended our afternoon by enjoying a delicious hot chocolate!
Snow White
Year 1 started the year off by looking at the fairy tale of Snow White. We wrote character descriptions, retold the story and made toffee apples. We linked our Science learning to the story and used our senses to detect the ingredients for the Queen's potion and went on a listening walk around the school pretending to be the wicked Queen.