Welcome to Year 4's Class Page
Thank you Saint John Fisher Catholic College for having us and teaching us RE and Art! We had a fantastic time and we can't wait for our next visit in Year 5!
Music
Today we had the most amazing experience, with the Halle Orchestra concert at the Victoria Hall. We played ukulele with the orchestra and had the opportunity to sing alongside them and other schools involved. We loved taking part in this special musical experience.
PE
We are enjoying developing our skills in athletics. Thank you Mr Hancock for teaching us the correct throwing techniques on how to throw the shot put and discus. It is definitely harder than it looks!
RE
We planned and carried out our own class collective worship.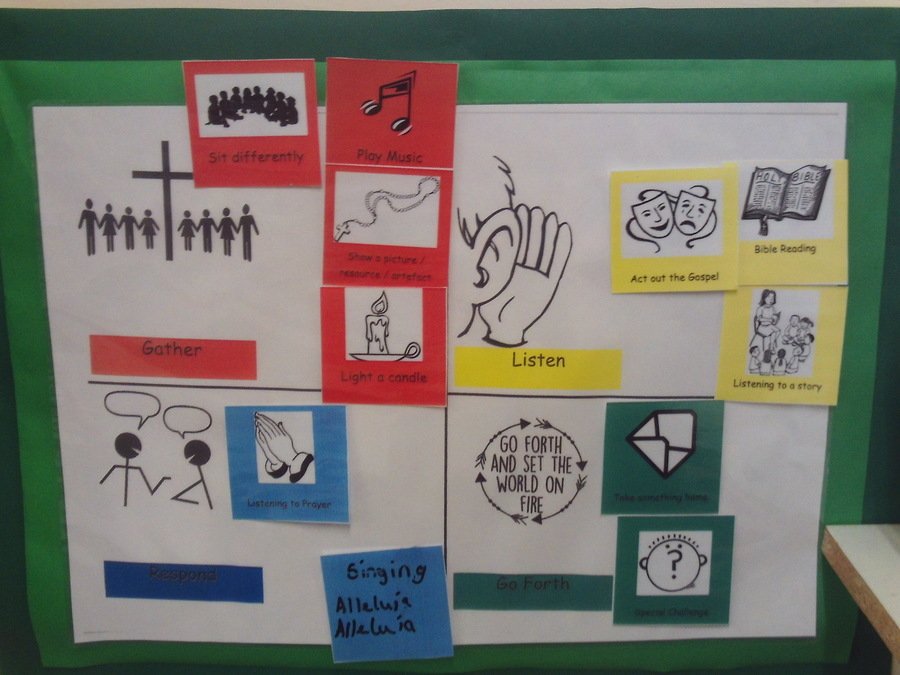 Spring Term
English
We became poets in English and created our own poem in free verse about a small unexpected event. We included some poetic features such as; personification, alliteration and similes. We then used our brilliant ICT skills to change the layout of our poem!
Maths
In Maths, we created posters to support our understanding on the different methods to use when solving multiplication problems. We now refer to them when completing our work.
Art
In Art, we enjoyed designing and creating our own Egyptian necklaces.
Can you identify what our specification was?
MAC Mass
On Thursday 29th November 2018 our Year 4 children celebrated Mass at St Wulstan' Church along with pupils from the other schools in the MAC. The children's behaviour was excellent, as was their reading and singing. Well done to all of the children, and thank you to all, who prepared the Mass.
Class Assembly
In our class assembly we retold the story of Jacob and his son Joseph. Within this we explored the feeling of jealousy, we learnt that we should not be jealous of others as we are all different with our special talents and characteristics. We should be happy for our differences and not to wish we had someone else's. Each one of us is special to God - as special as Joseph was to his father, Jacob.
Our visit to Stanley Head
We were extremely lucky to have a class trip to Stanley Head, the class split into groups. First group – Climbing Wall Second group – orienteering, we then swapped over after lunch.
Orienteering:
Discussed what maps are used for and how to use them for position and direction.

Identified significant places on a map.

Worked in team to carry out an orienteering challenge around Stanley Head.
Climbing Wall:
Developed self-confidence, co-operation, trust, team work and new skills.

Demonstrated good techniques when climbing the wall.
It was lovely to see the children enjoy life outdoors and hear their stories of achievements, of how they have overcome fears and shown courage and determination. The staff at Stanley Head complemented the children on their behaviour and good manners. Well done Year 4!
Class Liturgy
We also planned and carried out our own class liturgy of remembrance where we chose the readings, music, wrote prayers and poems to read out. We prayed for all who served and died in both world wars and remembered and all those who have died, especially those close to us. This liturgy was all the children's own work and they maintained reverence and respect throughout.
As part of our Remembrance Week at school, we wrote an acrostic poem, as a class, to remember those who gave their lives during the World Wars:
Saving people's lives from the enemies in the war
Others are waiting patiently and hopefully back home
Loved are the ones we remember
Dark and gloomy, but still fighting for peace in our world
Intense atmosphere, but still fighting for glory
Endless praying with an aching heart
Reflect quietly with hopeful thoughts of peace
Still thinking of you in our hearts, don't give up and please come home.
RE
We have been reading and learning about the stories of Creation, Abraham and Isaac and Jacob and Joseph from the Old Testament. We have learnt lots about how we are made in God's image and likeness and that we must value and respect this in others. Also how God made promises to Abraham and how he would be the father of a great nation. We dramatised the story of Jacob and discussed the promises God made to him.
Topic
We have been bringing Roman myths to life! Working in groups and using our imaginations we dramatised an ordeal that a hero/heroine in a story could face. We then worked towards making a freeze frame of what was about to happen to the hero/heroine. We captured some amusing sights!