Our Roles and Responsibilities
We have many important responsibilities in Year 6, our last year of primary school.
Here are some of the pupil leaders of our school:
Head Girl: Rosie
Head Boy: Christian
Deputy Head Girl: Evie
Deputy Head Boy: Shaun
Principal PAL (Prayer and Liturgy Support): Isla
PALs Team: Connie, Joanne and Leona
St. George's House Captain: Kyna
Vice Captain: Sam
St. Patrick's House Captain: Simon
Vice Captain: Eleanor
St. Andrew's House Captain: Joel
Vice Captain: Shay
St. David's House Captain: Marjon
Vice Captain: Ashton
As part of Lent, and our Easter preparations, Y5 and Y6 prepared and performed the Stations of the Cross Liturgy for the rest of the school. It gave us all to a chance to reflect and remember why we celebrate Easter and its importance in the life of the church. It was a very moving performance!
Year 6 attended the Safe and Sound morning at Hanley Fire Station. They learnt lots about road safety, fire safety, keeping safe in the community, mental health and wellbeing and drugs and alcohol awareness. They all thoroughly enjoyed the experience and found it very informative.
On Monday 17th December, our class led the whole school in our Carol Service, the story of the Nativity retold through scripture, carols, reflections and drama. We were joined by parent and parishioners, who sang along with us as we all reflected upon the true meaning of Christmas.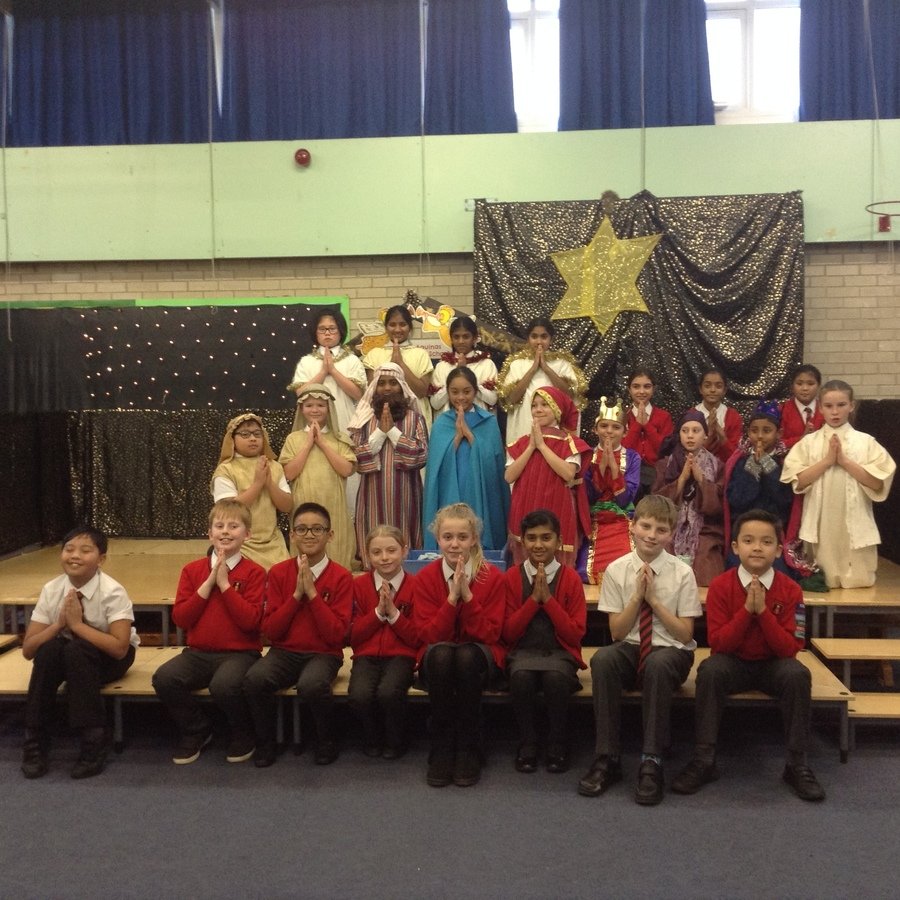 A visit from Mr Jones, Mr Silvester and their feathered friends!
On Wednesday 21st November, we had a very special visit from Mr Jones and Mr Silvester, who came to talk to us about the use of pigeons in the world war. Mr Jones gave us a really informative History lesson, telling us some inspirational stories of homing pigeons who, against many odds, played a huge part in saving the lives of hundreds of thousands of men in battle during both world wars. We were particularly enthralled by the stories of Winkie and Cher Ami, who travelled many miles at great speed to save the lives of military men in dangerous conditions and were awarded war medals for their gallantry. We were also treated to a hands-on experience with Mr Silvester and his homing pigeons- most of us were even brave enough to stroke them and we were very surprised at how soft and calm they were! Have a look at some of the pictures below:
Eleven: Eleven 100 Year Centenary of The Great War
On Friday 9th November, we were fortunate enough to go to The Regent Theatre in Hanley with Year 5, to take part in their commemoration of the centenary of the end of World War 1. We first had a drama workshop with the education staff at the theatre, and then we were privileged to perform alongside other groups and schools on the stage in front of a large audience, including our supportive families and friends, who gave us the biggest cheer! We treated them to a rendition of 'White Cliffs of Dover', 'Amazing Grace' and 'In Flanders' Fields'.
Our Class Remembrance Assembly
On Friday 9th November, Year 6 lead the school in a prayerful, thought-provoking memorial assembly to remember all servicemen, women and animals who bravely gave their life for our freedom in the world wars. We gave thanks, prayed for the souls of the faithfully departed, sung and reflected upon the message of peace, love and honour that these people brought to our country. We also showcased our beautiful memorial displays in the hall and our prayer garden.
Art- World War Commemorative Tiles
Inspired by our recent trip to Middleport Pottery, we have designed and painted our own commemorative war tiles. In keeping with Middleport's own design, we were restricted to using only black, white and red paints. After choosing our favourite design idea, we used tracing paper and china graph pencils to transfer the design outline onto the tiles, mixed the colours and painted.
RAF 100 Years Science Fair
To commemorate 100 years since the founding of the RAF, Staffordshire University held a Science Fair. We went along to experience lots of different stalls and activities celebrating Science, Technology and Engineering and had lots of fun getting hands-on with giant snails, snakes, robots and retro-toys from the past! A great morning was had by us all- and we even met our local MPs, Ruth Smeeth and Gareth Snell.
CAFOD Assembly and Workshop
After our annual whole-school assembly from CAFOD representative Mr Andrew, Year 6 then had a workshop on refugees. We learnt about how Mary, Joseph and Jesus were refugees when Our Lord was a child, and also about the current crises in Syria and the Holy Land, which has forced many people out of their homes and into neighbouring countries, sometime soften further. We finished with reflecting in our own personal ways on our learning; some of us responded by writing a prayer or poem, whereas others drew artwork. It gave us lots to think about and be thankful for in our own lives.
As part of our learning on the World at War, we were very lucky to go and visit the Weeping Windows poppy display at Middleport Pottery with Year 5. It was a very humbling and spiritual experience to see an artistic representation of just a small number of the soldiers who died for our freedom. We also enjoyed learning about the local history of the pot banks in our area and the jobs of the men and women working to create pottery for which our city is famous. Our favourite job was, of course, the saggermaker's bottom knocker!