Day 5 of lockdown 4.0...The last day! I am so incredibly proud of you all and I hope you have a great Friday.
Read on to find out what's on the menu for today.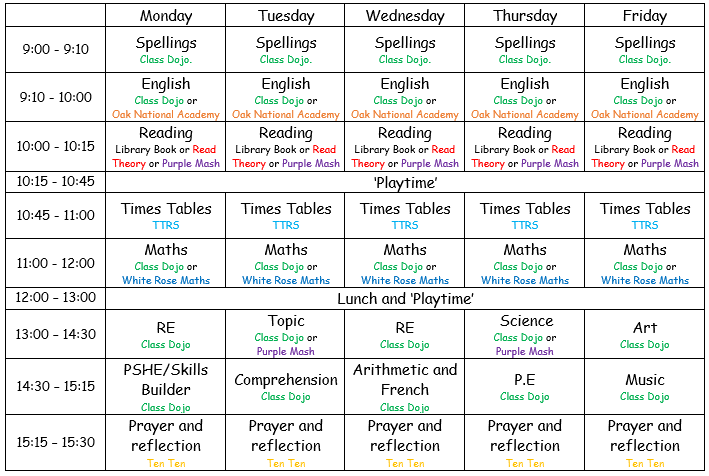 Try to stick to the timetable as best you can. If you finish a task early, below the daily outline is a table with lots of extension activities and games that you could try.
Here is what I would like you to do on Friday 9th July =)
09:00 - 09:15 - Spellings - This week we will be focussing on some Maths, Topic and Science Spellings. This morning I would like you to try some Viking themed spellings here: https://spellingframe.co.uk/spelling-rule/203/crime
09:15-10:00 - Music Zoom with Mrs. Pritchard.
10:00-10:15 - Reading - Head on over to Purple Mash where I have set you a Reading chapter and quiz.
10:15 – 10:45 - Break time
10:45 - 11:00 - Photo hunt - I need you to find a snap of you when you were tiny for leavers.
11:00 - 11:30 - Describing classmates - You are going to fill in a sheet on Class Dojo where you describe your classmates in 3 words.
11:30 - 12:00 - Video task - I would like you to film a short video sharing something about primary school. This could be your favourite memory, a funny story, a thank you to someone or your hopes for the future. Hopefully these videos will be used as part of our leavers assembly.
12:00 - 13:00 – Lunch
13:00 - 15:15 - Computing - Where the Internet Lives. Mrs Alaimo is going to set you a series of tasks on Class Dojo around our last Computing unit. Enjoy!
15:15 - 15:30 - End of week reflection and prayer
Cannot wait to see you all on Monday in person instead of on Zoom!
Miss Lovatt
=)