Morning Year 6,
As we reach the end of another week I think we should take a moment to celebrate what we have achieved. You have all engaged in Zoom lessons and have managed technical glitches and difficulties brilliantly. I really enjoyed our Maths Zoom yesterday, it makes it feel a little more like normal to talk to you all and interact during your lessons... still I can't wait until we are all back but well done for making the most out of this situation and continuing to learn at home.
As before if you have any issues please leave a comment on dojo or ask your Parents to email me.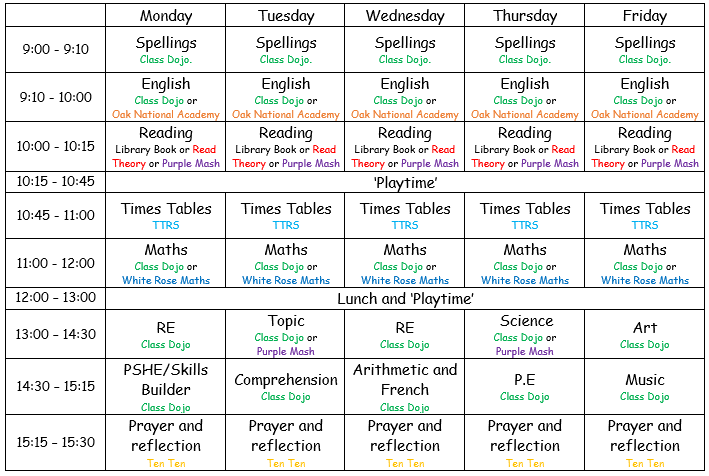 Try to stick to the timetable as best you can. If you finish a task early below the daily outline is a table with lots of extension activities and games that you could try.
Here is what I would like you to do on Friday 22nd January.
09:00 - 09:10 - Spellings - This week's spellings will be set on Class Dojo for you to type out 5 times per spelling like you would in class, there will be a new Spelling Frame quiz for you to try.
09:15 – 09:45 - Live music zoom – We will be joining Mrs. Pritchard for a music zoom this week. The meeting invite is on the class dojo page.
09:45 – 10:30 – Maths - We will be completing the White Rose Maths lesson on 'Equivalent FDP' (Fractions, Decimals, Percentages), you can watch the lesson here https://vimeo.com/492474663 (or here https://whiterosemaths.com/homelearning/year-6/spring-week-3-number-percentages/). The worksheet for this lesson will be uploaded to Class Dojo.
10:30 – 11:00 – Break time
11:00 - 12:00 - English – Today we will be concluding our autobiographies, writing the two remaining main body sections and the conclusion. There will be a video instruction on Class Dojo with some whole class feedback from the first half of your work.
12:00 - 13:00 – Lunch
13:00 – 13:30 – Maths Assertive Mentoring – your weekly skills sheet will be uploaded to Class Dojo
13:30 – 14:00 – Art – Now to look at our new artist of the week time! WALT: investigate the work of great artists. This week it is Claude Monet. Find out more about him here https://www.tate.org.uk/kids/explore/who-is/who-claude-monet before creating your scrapbook sheet.
14:00 – 15:00 – Zoom Computing and catch up! – First I will show you how to code on Purple Mash in the first lesson of our new ICT unit. Then we can have a chat and a catch up about the week.
15:00 – 15:15 - Catch up time to clean up our portfolios ready for next week.
15:15 - 15:30 - End of day reflection and prayer time.
Have a wonderful weekend =)
Miss Lovatt